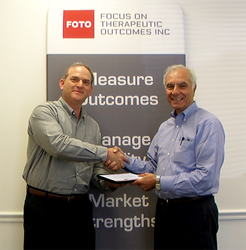 This particular research article uses Outcomes to demonstrate the value of continuing education and its effect on patient functional outcomes and treatment efficiency.
Knoxville, TN (PRWEB) May 10, 2015
FOTO Announces the 2015 D. L Hart International Research Award was presented to Dr. Daniel Deutscher, PT, PhD, for outstanding research in physical therapy. Dr. Deutscher is Director of Research & Development, Physical Therapy Service, Maccabi Healthcare Services, Tel Aviv, Israel. He has lead the use and research of outcomes in Israel utilizing the FOTO Outcomes Management System over 10 years.
The significance of Dr. Deutscher's research found that physical therapists with any formal McKenzie education (Parts A to D and credentialed) had better patient functional outcomes and fewer visits than therapists with no formal McKenzie training. The research is published and peer-reviewed in Physical Therapist' Level of McKenzie Education, Functional Outcomes, and Utilization in Patients with Low Back Pain Co-authors involved in the research include Mark Werneke, PT, MS, Dip MDT, Ditza Gottlieb, PT, MSc, Julie Fritz, PT, PhD, and Linda Resnik, PT, PhD.
Dr. Deutscher will donate the award money to a Physical Therapy PhD student's expenses. Nominations can be directed to FOTO Marketing@fotoinc.com.
The D.L. Hart Award honors research that has made a significant impact on the science of patient management by advancing the use of rehabilitation functional outcomes measurement and assessment. The Award honors Dennis Hart, PT, PhD, FOTO's Director of Research and Development who passed away in 2012. Dr. Hart's work was visionary as FOTO's functional outcomes measurement system and database has become the rehabilitation industry standard. Through Dr. Hart's open collaboration with clinicians and researchers using the FOTO outcomes database, many opportunities are now available to prove and advance the science of physical therapy, occupational rehabilitation and speech therapy. Dr. Deutscher not only utilized the FOTO data for his current research, but collaborated directly with Dr. Hart on many earlier research publications.
Dr. Deutscher stated "the research was initiated to continue efforts and strive for improvement in outcomes for our patients. Previous studies revealed the need for additional therapist education in classification based treatment and we selected the McKenzie approach for continuing education. Results drove us to continue promoting basic level McKenzie courses due to the improved cost-effectiveness associated with those training levels, as well as seek to improve the educational and implementation processes of McKenzie at the more advanced levels of training."
FOTO co-founders, Al Amato and Ben Johnston, said "Dr. Deutscher is especially qualified to be this years' recipient of the the D. L. Hart International Award for several reasons. Dr. Deutscher has contributed several articles in the past on the science and use of Outcomes in Rehab. This particular article uses Outcomes to demonstrate the value of continuing education and its effect on patient functional outcomes and treatment efficiency. The article gives weight to the need to monitor continuing clinical education to determine the benefit in patient management and clinical efficiency. Dr. Deutscher has designed a valid study to measure this important relationship. Thank you Dr. Deutscher, for this important contribution to the body of knowledge using outcomes."
Learn more about the D.L. Hart International Award, FOTO research and the contributions of Dr. Dennis Hart.
About FOTO
FOTO is a Knoxville, TN, based corporation that has been continuously improving solutions that efficiently and reliably measure and report functional outcomes for the Rehab industry for 20 years. FOTO's web-based solutions are risk-adjusted to enable fair and accurate measurement and predictions of the expected improvement in a patient's functional status. Approximately 7 million patient surveys have been compiled in the FOTO database, and researchers have utilized FOTO data to publish over 85 articles on functional outcomes in refereed medical journals. These publications have led the way in enhancing the science of measuring outcomes and the use of outcomes in payment methodologies. FOTO is considered the standard in measuring functional outcomes in Rehabilitation. Learn more at FOTO or contact Judy Holder at 1-800-482-3686 x238.
About Daniel Deutscher
PT, PhD, Director of Research & Development, Physical Therapy Service, Maccabi Healthcare Services, Tel Aviv, Israel. Dr. Daniel Deutscher is a Physical Therapist, working in 'Maccabi Healthcare Services', the second largest public medical health plan in Israel, serving as a clinic manager and the national director of research & development in the physical therapy service. Dr. Deutscher has received his Bachelor's degree in Physical Therapy and his Master of Science in Physical Therapy from Tel-Aviv University, and his PhD from the University of Haifa, Israel, studying relationships between patient characteristics, treatment procedures, costs and outcomes, in outpatient physical therapy clinics. Dr. Deutscher has published articles in peer reviewed journals including Physical Therapy, The Journal of Orthopedic and Sports Physical Therapy, Archives of Physical Therapy & Rehabilitation, Spine, Physiotherapy Theory & Practice, Quality of Life Research, Journal of applied measurement, Disability & Rehabilitation, BMC health services research and the International Urogynecology Journal.
About Maccabi Healthcare Services
Maccabi is a publicly funded health service. Over the last 10 years, the Physical Therapy Department within Maccabi has built an advanced infrastructure for routine data collection on patients, treatments and outcomes data using their local electronic medical records system and the FOTO Outcomes Data Management System. Continued studies using this combined data will provide improved healthcare delivery and benefit our patients. Learn more about Maccabi Healthcare Services