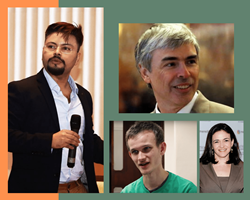 I believe that prosperity and advancement come with strategic alliances rather than competing with peers, especially in the constantly evolving world that we live in the present.
PALO ALTO, Calif. (PRWEB) August 05, 2020
As of Tuesday, Raj Chowdhury, CEO of HashCash Consultants has surpassed Google co-founder Larry Page on global Crunchbase ranking. The blockchain pioneer and entrepreneur, has claimed a position in the elite list of Crunchbase top 100, with current ranking at 88, followed by Larry Page at 97.
By doing so Raj Chowdhury has surpassed Facebook COO Sheryl Sandberg (100), Actor-Producer Will Smith (104), Ethereum co-founder Vitalik Buterin (113), Indian industrialist Ratan Tata (138), and Oracle co-founder and CTO Larry Ellison (158) in CB ranking. (All rankings are dated 04.08.2020)
Raj spearheads the strategic direction of HashCash Consultants, a global software firm that has come to be recognized as one of the top blockchain development companies, through a series of prominent alliances and groundbreaking projects across industries. The company has flourished in leaps and bounds, under the able leadership of Raj, who is the mastermind behind HashCash's innovations.
HashCash Consultants has been setting examples within the global industry, establishing high standards to influence the mass adoption of new-age technologies like blockchain. Under Raj Chowdhury, the company has launched several blockchain and crypto-based services and products, establishing a robust network of global partners and clients by initiating interoperability across verticals.
In a recent interview with the media, Raj Chowdhury commented, "Apart from my role as HashCash CEO, I actively take part in creating global standards for interoperability by engaging with the International Standards organization and other industry entities. I have worked with regulators globally to invent and create scalable architectures for businesses in the blockchain and crypto space. I believe that prosperity and advancement come with strategic alliances rather than competing with peers, especially in the constantly evolving world that we live in the present."
A visionary, Raj was one of the first industry leaders, to champion the cause of permanent remote working in the wake of COVID-19 pandemic. Intercepting the transformation in global work culture, he announced work from home for his globally operational workforce till 2021. The company at the moment is working to make necessary improvisations for conferring permanence into this work protocol.
Before taking the reins of HashCash in his hands, Raj initiated the first-ever interbank Trade Finance and Remittance implementations of Blockchain between two major Global Banks. He is the alumni of Tufts University, Santa Clara University, and the Fletcher School of International Law and Diplomacy for MS and MBA. He has a decorated career as a research associate at MIT's Microsystems Technology Lab, post which he had been associated with multiple start-ups.

About HashCash Consultants:
HashCash is a global software company offering solutions in Blockchain, AI, Big Data and IoT through its platforms, products & services. HashCash Blockchain products enable enterprises to move assets across borders in real-time for Remittances, Trade Finance, Payment Processing and more. HashCash runs US-based digital asset exchange, PayBito & Digital asset payment processor, BillBitcoins. HashCash offers crypto exchange solutions, Payment processor software, ICO services and customized Blockchain use case development. It propels advancement in technology through Blockchain1o1 programs and its investment arm, Satoshi Angels. HashCash solves the toughest challenges by executing innovative digital transformation strategies for clients around the world.