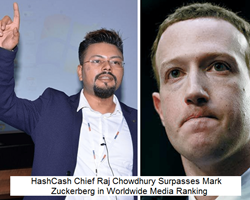 PALO ALTO, Calif. (PRWEB) August 18, 2020
CEO of HashCash Consultants, Raj Chowdhury has surpassed Facebook Founder and CEO Mark Zuckerberg, on Crunchbase's global media ranking. As of Monday, Chowdhury is holding 57th position within the top 100 most influential people listed under the Crunchbase. Zuckerberg is currently ranked 58th on the list. (Ranks are dated 17.08.2020)
A blockchain pioneer, Raj Chowdhury is the chief architect behind the strategic growth and global recognition of HashCash Consultants. It is under his able leadership that the company has ascended to the position of being one of the top blockchain development companies, creating novel standards in the industry and setting exemplar through their innovations.
Speaking with the media, Raj Chowdhury mentioned, "Through collaborations and my engagements with industry leaders and global regulators, my goal has been to accelerate the mass adoption of blockchain and cryptocurrency across verticals. I have channelized both individual endeavors and company efforts into building futuristic and scalable infrastructures to make up for the drawbacks of the legacy systems, for a digitally smart and decentralized future."
Lead by him, HashCash Consultants has forged notable alliances with leaders and entrepreneurs across sectors, creating a robust network comprising of global banks, fintech, and enterprises. Chowdhury is the mastermind behind prominent blockchain collaborations in major industries, influencing the transformation of legacy architectures.
Before joining HashCash as the Chief Executive Officer, Raj Chowdhury executed the first-ever inter-bank Trade Finance and Remittance through Blockchain integration between two major global banks. Alumni of Tufts and Santa Clara University, and Fletcher School of International Law and Diplomacy for MBA and MS, Raj Chowdhury holds an equally impressive academic record as a research associate at MIT's Microsystems Technology Lab. After completing education, he went on co-found multiple start-ups, all of which worked with emerging technologies.
About HashCash Consultants:
HashCash is a global software company offering solutions in Blockchain, AI, Big Data, and IoT through its platforms, products & services. HashCash Blockchain products enable enterprises to move assets across borders in real-time for Remittances, Trade Finance, Payment Processing, and more. HashCash runs US-based digital asset exchange, PayBito & Digital asset payment processor, BillBitcoins. HashCash offers crypto exchange solutions, Payment processor software, ICO services, and customized Blockchain use case development. It propels advancement in technology through Blockchain1o1 programs and its investment arm, Satoshi Angels. HashCash solves the toughest challenges by executing innovative digital transformation strategies for clients around the world.