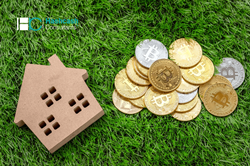 Blockchain has immense potential to improve the way property deals get executed within the real estate sector. We aim to create a trusted real estate ecosystem to unite all stakeholders under one platform.
PALO ALTO, Calif. (PRWEB) August 04, 2020
Followed by their continued success in delivering innovative solutions to global industries, HashCash is now helping a USA based real estate firm to streamline its core operations with cutting-edge and scalable blockchain solutions. The USA based company has a suite of services and products that are specifically designed to reform the traditional and fragmented infrastructure of real estate companies. Through this collaboration, the partner firm will leverage HashCash's blockchain-based real estate solutions to establish a futuristic operational architecture for the smooth flow of business.
"Blockchain has immense potential to improve the way property deals get executed within the real estate sector. HashCash, through its implementation of DLT, addresses transparency and financing issues and eliminates the prevalence of third-party intermediaries while offering sustainable solutions to the same. We aim to create a trusted real estate ecosystem to unite all stakeholders under one platform", commented Raj Chowdhury, CEO of HashCash Consultants.

Key Aspects of HashCash's Real Estate Blockchain Collaboration:
Blockchain integration into real estate activities addresses the age-old issues within the industry that has kept property investments for a limited few. Lack of investment opportunities and low liquidity are the byproducts of the real estate inaccessibility that has stunted the growth of the industry.
HashCash aims to address the relevant issues through blockchain solutions and integration, through strategic alliances with the major players within real estate. The key features of blockchain-based real estate solutions to be implemented into the infrastructure of the partner organization are:
1. Leverage the immutability of HashCash's blockchain network HC Net to allow seamless integration and secured record-keeping of fragmented property records in a tamper-proof shared ledger that will be accessible to the stakeholders.
2. Peer-to-peer transactions will be enabled to streamline the payment complications making it instant, cost-effective, and free from any third-party intermediary.
3. Leverage blockchain to prevent fraudulent transactions within the network, upholding transparency of payments, and records sharing.
4. Blockchain-based digital identity verification streamlines document verification
5. All property records will be traceable, leading to the prevention of fraudulent documentation and any kind of alteration of the same.
6. One unified platform for property listings and documents allowing all stakeholders to access the documents instantly seconds and execute transactions creating a unified decentralized property marketplace.
7. HashCash enables the tokenization of property over the platform enabling fractional ownership and thus increases the scope for real estate investments.
Real estate tokenization is central to blockchain solutions offered by HashCash, wherein the company allows the creation of utility tokens out of real estate assets allowing multiple people to own stakes of a single property, broadening the spectrum of for investors interested in global properties.
About HashCash Consultants:
HashCash is a global software company offering solutions in Blockchain, AI, Big Data and IoT through its platforms, products & services. HashCash Blockchain products enable enterprises to move assets across borders in real-time for Remittances, Trade Finance, Payment Processing and more. HashCash runs US-based digital asset exchange, PayBito & Digital asset payment processor, BillBitcoins. HashCash offers crypto exchange solutions, Payment processor software, ICO services and customized Blockchain use case development. It propels advancement in technology through Blockchain1o1 programs and its investment arm, Satoshi Angels. HashCash solves the toughest challenges by executing innovative digital transformation strategies for clients around the world.