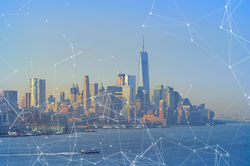 HashCash has crafted a clear blueprint of a series of blockchain solutions and services, that will address and rectify all the legacy issues within property trade and ownership.
PALO ALTO, Calif. (PRWEB) July 08, 2020
HashCash Consultants is extending its blockchain expertise through scalable solutions and services specifically designed to bring reformation within the real estate sector. The USA based company's blockchain solutions for real estate aims to address all the legacy drawbacks that have kept investment and growth limited within the property industry.
Speaking of their blockchain solutions for real estate, Raj Chowdhury, CEO of HashCash Consultants commented, "Real estate is the largest asset class in the world, however, the investment opportunities within the sector are still minimal and restricted to a certain section of the population, due to its inaccessibility, high-cost barrier and extensive involvement of multiple intermediaries. Blockchain integration aims at addressing all of these issues within the real estate sector, creating better investment opportunities that not only benefit the investors but improve the global revenue generation from real estate investments. HashCash has crafted a clear blueprint of a series of blockchain solutions and services, that will address and rectify all the legacy issues within property trade and ownership."

While blockchain continues with its disruption spree, the real estate sector is yet to experience the full potential of the technology with minimal DLT integration in the sector. HashCash aims to change that by forging robust partnerships and collaborations with global leaders within the property industry to bring forth futuristic augmentation.
The real estate sector has age-old issues that need immediate addressing and rectification for the advancement of the industry. It all boils down to a legacy architecture that propagates the following drawbacks:
1. Several geographical, regulatory, and financial barriers make real estate investments inaccessible to all.
2. The sector still suffers from a lack of transparency and traceability in documentation and transactions.
3. The involvement of several third-party intermediaries raises the cost barrier of the property investment.
4. It is due to the same reason that the sector suffers from low liquidity issues
5. The transactions and transfer formalities of property owners take months for processing.
6. The lack of upfront capital pushes the investors to avail alternative financing options which ultimately turns the investment into a liability.
HashCash's Blockchain Addresses Each with Its Key Offerings of:
1. Peer-to-peer transactions that streamline the traditional complexities making the transaction quick, cost-effective, and free of third-party involvement.
2. The immutability of the HC Net (HashCash's native blockchain network) enables automatic integration and curation of the fragmented property records in a tamper-proof distributed ledger, accessible to concerned parties. It also prevents any kind of fraudulent transactions over the network.
3. Property documents are all available in one platform that brings together all the stakeholders who can access these documents easily and within seconds.
4. Streamlining of document verification speeds up the process of property ownership.
5. Property tokenization is another extensive area of blockchain-based real estate solutions, that allows multiple entities to have shares of a single property and earn from it.
Leveraging the values of Blockchain to facilitate real estate investments remarkably reduces the upfront costs and ensures better long-term returns. The elimination of third-party involvement makes the operational architecture seamless and less time taking.

About HashCash Consultants:
HashCash is a global software company. HashCash Blockchain products enable enterprises to move assets and settle payments across borders in real-time for Remittances, Trade Finance, Payment Processing, and more. HashCash runs US-based digital asset exchange, PayBito & digital asset payment processor, BillBitcoins. HashCash offers exchange and payment processor software solutions, ICO Services, and customized use cases. HashCash propels advancement in technology through Blockchain1o1 programs and its investment arm, Satoshi Angels. HashCash offers solutions in AI, Big Data, and IoT through its platforms, products & services. HashCash solves the toughest challenges by executing innovative digital transformation strategies for clients around the world.