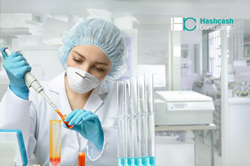 Leveraging the values of blockchain through the smart contract, we can streamline and coordinate it and ensure the easy exchange of data among all participants and also make sure that privacy is maintained
PALO ALTO, Calif. (PRWEB) July 24, 2020
USA's HashCash Consultants is extending its blockchain expertise to a global pharmaceutical company to help them in secured record-keeping of clinical trials through smart contracts. Smart contract development happens to be one of the most sought after services of the leading blockchain development company. It comes with great benefits for clinical record keeping, which is a complex and critical process.
"Clinical trial is a critical and highly sensitive process and involves a bulk load concerning the patients and medical research, adding to the complexity of the process. Safe and secured record-keeping is central to clinical trials, and considering the enormity of the process, a manual approach doesn't suffice. Leveraging the values of blockchain through the smart contract, we can streamline and coordinate it and ensure the easy exchange of data among all participants and also make sure that privacy is maintained," mentioned Raj Chowdhury, CEO, HashCash Consultants.
A clinical trial or medical research deals with sensitive data, which involves patients' records and drug development. A large amount of data gets exchanged between departments and sometimes even between research organizations. Using manual methods, it can be hard to execute the process and maintain the security and privacy of the data.
By using smart contracts, HashCash aims to address all of the above-mentioned pain points and provide sustainable solutions to the same. The patient data and sensitive drug development information can be exchanged between parties involved through a blockchain network which ensures absolute security and immutability of data.
Enhanced security is one of the prime aspects of smart contracts owing to the value of advanced encryption used in its development. The data that has been generated through a smart contract cannot be tampered and cannot be divulged without permission from the intended party.
HashCash aims to develop high cross-institutional visibility through smart contracts for easy flow and exchange of information. It automates the process of data sharing, as soon as the pre-defined conditions within the contract get fulfilled. The use of smart contracts will aid in identity verification of the patients and the network participants along with authorization of the same. In the final stages, it will be used to automate the trialing process and transmit or share the required information across multiple platforms.
About HashCash Consultants:
HashCash is a global software company. HashCash Blockchain products enable enterprises to move assets and settle payments across borders in real-time for Remittances, Trade Finance, Payment Processing, and more. HashCash runs US-based digital asset exchange, PayBito & digital asset payment processor, BillBitcoins. HashCash offers white label crypto exchange and payment processor software solutions, ICO Services, and customized use cases. HashCash propels advancement in technology through Blockchain1o1 programs and its investment arm, Satoshi Angels. HashCash offers solutions in AI, Big Data, and IoT through its platforms, products & services. HashCash solves the toughest challenges by executing innovative digital transformation strategies for clients around the world.