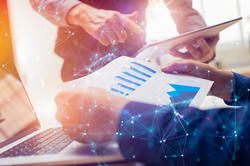 We at HashCash offer critical insights and guidance, helping banks and other financial bodies with liquidity control through our risk management solutions.
PALO ALTO, Calif. (PRWEB) July 27, 2020
HashCash Consultants is helping banks and financial institutions with advanced risk management solutions to help them manage and lower the liquidity risks, along with addressing other issues associated with traditional banking infrastructure.
The USA based company has a suite of cutting-edge digital tools supported by sophisticated back-end algorithm to drive the liquidity policies implemented by banks and financial institutions, aligning the same with government regulatory compliances.
Talking about the company's risk management solutions, Raj Chowdhury, CEO of HashCash Consultants, commented, "The imbalances in the inflow and outflow of funds lead to liquidity risks in financial organizations. With a fluctuating global market, it has become hard for these institutions to regularize the liquidity policies while aligning the same with government norms. We at HashCash offer critical insights and guidance, helping banks and other financial bodies with liquidity control through our risk management solutions."
HashCash Consultants has a plethora of offerings in services and products focused on the reformation of legacy infrastructure still existent with the banking and financial services sector. They have collaborated with global banks and deployed multiple projects through the same by leveraging digital innovation.

HashCash's Risk Management Solutions:
HashCash's chief role when working with banks and financial institutions is to identify the pain points and risk factors and mitigate the same through a suite of sophisticated tools. The idea is to minimize the risks related to the liquidity policies.
HashCash's asset-liability management program assesses operational risks, liquidity, and capital issues manage the same through sustainable solutions. They have a very comprehensive approach of catering to organizations involved in financial services, helping them extenuating the drawbacks and minimizing the scope of financial collapse. Their advanced software solutions come with:
1. Total regulatory compliance (both local and international)
2. Assessment based risk management
3. Refurbishment of policies wherever needed
Central to HashCash's risk management services is their bank compliance software, designed to run a comprehensive analysis of every aspect associated with financial operations (banking and non-banking). It reduces the risk that might cause a regulatory compliance issue. The company helps in standardizing risk management through integrated regulatory compliances and offers a streamlined approach to financial institutions to execute their operations securely.
About HashCash Consultants:
HashCash is a global software company offering solutions in Blockchain, AI, Big Data and IoT through its platforms, products & services. HashCash Blockchain products enable enterprises to move assets across borders in real-time for Remittances, Trade Finance, Payment Processing and more. HashCash runs US-based digital asset exchange, PayBito & Digital asset payment processor, BillBitcoins. HashCash offers Exchange solutions, Payment processor software, ICO services, and customized Blockchain use case development. It propels advancement in technology through Blockchain1o1 programs and its investment arm, Satoshi Angels. HashCash solves the toughest challenges by executing innovative digital transformation strategies for clients around the world.