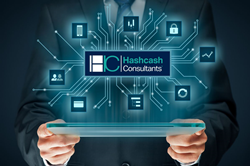 A focused drive towards constant improvement and surpassing expectations has paid dividends for HashCash.
PALO ALTO, Calif. (PRWEB) January 13, 2023
International blockchain development company HashCash Consultants continues to deliver unparalleled excellence in practical blockchain solutions, winning recognition and accolades in several global business research listings focused on the technology domain. The US-based company has been featured prominently in the top position as a global blockchain development company in TechReviewer and TechResearcho.
The listings feature the top blockchain developers offering viable business solutions on a global scale, with parameters like hourly remuneration, services offered, and operational experience kept in consideration. HashCash's top position is reflective of the company's extensive experience in delivering comprehensive and scalable B2B blockchain solutions worldwide- solutions that not only match the client's expectations but exceed them. Global enterprises integrating blockchain into their infrastructure or leveraging business growth opportunities across crypto, DeFi, or other blockchain-powered innovations have acclaimed HashCash's diligent commitment to innovation and perfection.
HashCash CEO and blockchain pioneer Raj Chowdhury states. "A focused drive towards constant improvement and surpassing expectations has paid dividends for HashCash." He had previously mentioned the contribution of blockchain DI frameworks in the metaverse, and forecasting possibilities combining blockchain with AI and IoT.
In less than a decade, blockchain has leapfrogged into the mainstream as one of the most disruptive technologies with limitless application possibilities. The underlying architecture behind cryptocurrencies is witnessing increased adoption across multiple domains including BFSI, cross-border crypto payments, supply chain, healthcare, gaming, metaverse, and upcoming Web 3.0 technology.
The HashCash team, comprising experts in the fields of banking, cybersecurity, finance, and software development succeeds in merging its proficiency in blockchain with other trending technologies such as AI/ML, Big Data Analytics, IoT, and more.
HashCash has developed and deployed blockchain solutions in over 26 nations across 6 continents, including Finland, Vietnam, the US, and more. Striving for consistent improvement, the company upgraded its critically acclaimed white-label crypto exchange infrastructure for organizations willing to add crypto trading services to their portfolio. HashCash recently announced plans of metaverse diversification, additional recruitments, and expansion across East India, investing $10 million for the construction of HashCash Park in Bengal Silicon Valley, Kolkata.
HashCash's recent achievements reflect the firm's understanding of prioritizing collaboration instead of competition and upholding client requirements with trust and transparency. The company looks forward to earning further recognition for delivering blockchain solutions that benefit other organizations, and humanity as a whole.
About HashCashh Consultants:
HashCash is a global software company. HashCash Blockchain products enable enterprises to move assets and settle payments across borders in real-time for Remittances, Trade Finance, Payment Processing, and more. HashCash runs a US-based digital asset exchange, PayBito & digital asset payment processor, Billbitcoins. HashCash offers exchange and payment processor software solutions, ICO services, and customized use cases. HashCash propels advancement in technology through Blockchain1o1 programs and its investment arm, Satoshi Angels. HashCash offers solutions in AI, Big Data, and IoT through its platforms, products & services. HashCash solves the toughest challenges by executing innovative digital transformation strategies for clients around the world.