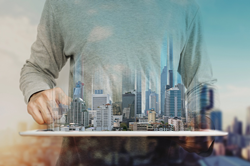 HashCash aims to form strategic alliances with industry players and bring a holistic change that will mark the beginning of a new era in the property business. It will open new avenues of growth for real estate, benefitting the investors as well.
PALO ALTO, Calif. (PRWEB) July 15, 2020
HashCash Consultants is partnering with USA based leading real estate company to help modernize their operations with blockchain solutions. Intensifying their activities within the real estate sector has been a top priority this year for the USA based blockchain and software Development Company.
Globally known for its blockchain solutions and products, HashCash aims to revolutionize and bring positive transformation within the property sector by forming strategic partnerships and forging robust alliances with enterprises.
In the aforesaid collaboration, they are to provide blockchain support to the partner company, leveraging the scalability of HC Net (HashCash's blockchain network) and gradually moving towards complete DLT integration with the existing architecture.
Speaking of the company's real estate activities, Raj Chowdhury, CEO of HashCash Consultants commented, "Blockchain has immense potential to reform the pain points within the real estate industry and make investment accessible to all and not just the rich. HashCash aims to form strategic alliances with industry players and bring a holistic change that will mark the beginning of a new era in the property business. It will open new avenues of growth for real estate, benefitting the investors as well. "
The Issues with the Existing Real Estate Structure:
For ages, the real estate sector has been functioning on fragmented policies and a legacy architecture that is heavily dependent on multiple third party influences that makes real estate investment no less than an ordeal. It is due to the same reasons that the gross investment in the property industry which is the largest asset class, comparatively lesser than the others. The key issues with the sector can be determined as:
1. Restricted accessibility to investors due to high capital barrier and expensive processes due to intermediary involvement
2. The need for high upfront capital urges the investor to seek alternative financing methods which at any moment can turn the property investment into a liability
3. A severe lack of transparency in the process of property registration, monetary and legal transactions etc. Rampant cases of corruption, tax evasion, and money laundering attest to that opacity of the real estate operations
4. Real estate transactions are time taking and can take up to 3 to 6 months for the entire deal to come to a closure, more if the property is located in a different country
5. Real estate investments tend to suffer from low liquidity issues due to issues of third party involvement, alternative financing, the high barrier of financial entry and lengthy transactions
All of these issues have collectively minimized the investors' interest in putting their money on property investments, the majority of who deem it as extremely hassling.
How HashCash Aims to Neutralize the Hurdles:
Blockchain disruption aims to address all of these age-old issues with the real estate sector and find sustainable solutions to the same. HashCash Consultants along with the partner company will modernize each legacy aspect of real estate investments with blockchain solutions making it more appealing to the common investor. The former will:
1. Leverage the advanced scalability of HC Net to create a unified ecosystem of real estate stakeholders, building a shared platform for transactions and interaction between participants
2. Initiate the process of fractional ownership by using real estate tokenization platform to digitize the property assets, to create better and more affordable investment opportunities helping the partner company to generate more revenue through increases real estate closures
3. Facilitate peer-to-peer transactions leveraging HC Net to neutralize the complexities involving real estate transactions, executing the same with ease
4. Uphold the immutability offered by blockchain to ensure transparency of all the transactions along with record-keeping of properties under one roof for easy searching
5. Ensure blockchain traceability upholding trust between the network participants
6. Aid the partner company with blockchain-based digital identity verification solutions for easy authentication of ID and other relevant documents over the platform to speed up the process
Through all the above-mentioned solutions HashCash along with the partner company aim to eliminate fraudulent activities, the prevalence of manual documentation, and third-party involvement, which is ultimately expected to bring improvement within the overall process of real estate deals and increase investment opportunities.
About HashCash Consultants:
HashCash is a global software company. HashCash Blockchain products enable enterprises to move assets and settle payments across borders in real-time for Remittances, Trade Finance, Payment Processing, and more. HashCash runs US-based digital asset exchange, PayBito & digital asset payment processor, BillBitcoins. HashCash offers exchange and payment processor software solutions, ICO Services, and customized use cases. HashCash propels advancement in technology through Blockchain1o1 programs and its investment arm, Satoshi Angels. HashCash offers solutions in AI, Big Data, and IoT through its platforms, products & services. HashCash solves the toughest challenges by executing innovative digital transformation strategies for clients around the world.