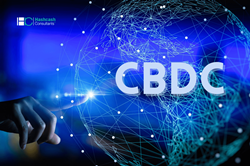 CBDCs are devised with the goals of establishing a cashless society and a formal based economy, with increased financial inclusion and more effective monetary policy.
PALO ALTO, Calif. (PRWEB) April 15, 2021
What would a global blockchain firm, with footprints across several continents wooing a wide range of industries with products involving the most sophisticated of technologies - thirst for? Innovation, of course.
After years of dabbling in the technology sector, creating a myriad of blockchain-based solutions, HashCash Consultants now gladly welcomes the global market tilt pouring over the Central Bank Digital Currency (CBDC) and assuming the role of Consultant and Advisor.

A central bank digital currency (CBDC) is an electronic record or digital token to represent the virtual form of a fiat currency of a particular nation (or region). A CBDC is centralized; it is issued and regulated by the official monetary governing body of the country.
CBDC is ideated to infuse the positives of both the virtual currency and the central bank-issued sovereign currency.
"CBDCs are devised with the goals of establishing a cashless society and a formal based economy, with increased financial inclusion and more effective monetary policy. This will give rise to a safer and more effective financial system nourishing the fintech industry and fostering an environment of competition and innovation," summarizes Raj Chowdhury, Founder, and CEO of HashCash Consultants.
In effect, the introduction of the CBDC will ensure fair use of currency units cutting the expense of circulation of physical money and the risk of counterfeit currency. The trust built in this digital currency will also allow simplified reconciliation in cases of overseas settlements. This will effectively empower the citizens and financial institutions.
Hashcash with its diverse portfolio in delivering fintech solutions and rich experience from working with top global banks makes for a strong candidate to provide the technology driving the CBDC.
HashCash boasts of a concrete foundation rooted in research, development, and implementation of multiple variations of DLT and blockchain technology. Their work history has spiraled around providing fintech solutions to central banks among others since 2015. They continue their march in providing thought leadership on motivation, design, and policy issues driving CDBC adoption in a collaborative and consultative approach.
Raj Choudhury rounds up HashCash's CBDC mission, thus: "We strive to create an open and efficient financial service ecosystem fostering financial inclusion and empowering the society to go cashless online and offline."
As a blockchain pioneer company, an advocate of the technology, and a proponent of ideas, HashCash welcomes the move by major global economies to concede to developing CBDC in an assured move of adopting the positives of digital currency.
​

HashCash is a global software company offering solutions in Blockchain, AI, Big Data, and IoT through its platforms, products & services. HashCash Blockchain products enable enterprises to move assets across borders in real-time for Remittances, Trade Finance, Payment Processing, and more. HashCash runs a US-based digital asset exchange, PayBito & Digital asset payment processor, BillBitcoins. HashCash offers white label crypto exchange solutions, Payment processor software, ICO services, and customized Blockchain use case development. It propels advancement in technology through Blockchain1o1 programs and its investment arm, Satoshi Angels. HashCash solves the toughest challenges by executing innovative digital transformation strategies for clients around the world.