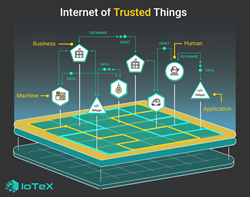 "We believe IoTeX is setting the gold standard for blockchain & IoT by developing real, transformative products to make the Internet of Trusted Things a reality."
MENLO PARK, Calif. (PRWEB) September 18, 2019
IoTeX (https://iotex.io), the leading privacy and IoT-focused blockchain platform, announced today a new strategic investment from HashKey Capital. As an affiliate of Hong Kong-based tech conglomerate HashKey Group (https://www.hashkey.com), HashKey Capital manages a diverse portfolio of innovative companies in the blockchain and financial technology industries. HashKey's investment and advisory will help IoTeX deliver their innovative platform to developers, enterprises, and end users across Asia and the Americas.
HashKey Group is a prominent figure in the technology industry and strategic partner of Wanxiang Blockchain Labs (http://www.blockchainlabs.org), a non-profit institution supporting entrepreneurs in the blockchain industry with development, regulatory, and digital economics guidance. Together, HashKey Group and Wanxiang Blockchain Labs accelerate promising projects by promoting technical development, adoption, partnerships, and integration with their wide array of portfolio companies.
"We believe IoTeX is setting the gold standard for blockchain & IoT by developing real, transformative products to make the Internet of Trusted Things a reality," said HashKey Capital CEO, Chao Deng. "HashKey's expertise and full range of offerings will accelerate adoption of IoTeX technology and drive IoTeX to the next level."
Founded in 2017, IoTeX is an open source, privacy-focused platform combining blockchain, secure hardware, and data services innovations to empower the Internet of Trusted Things. With offices in Silicon Valley, Shenzhen, and Singapore, IoTeX has established a global community of developers and enterprise partners to deliver blockchain-enabled privacy and IoT solutions. This past April, IoTeX launched their Mainnet Alpha, which will be followed in Q4 2019 by their Mainnet Beta and several secure hardware releases. HashKey Group's staking-focused entity, HashQuark, also joined the IoTeX Network as a Delegate in August 2019, helping to maintain the IoTeX Network alongside 60+ decentralized IoTeX Delegates, including Blockfolio, Draper Ventures, CoinGecko, Blockchange, and more.
After two years of focused development, IoTeX is maintaining a steep trajectory to deliver transformative capabilities to privacy, IoT, and blockchain developers and enterprises. IoTeX has recently been cited by industry-leading organizations, including Consensys (https://consensys.net) and Flipside Crypto (https://flipsidecrypto.com), as a Top 20 company in the entire blockchain industry in regards to user and developer activity. Later this year, IoTeX will launch several blockchain-based consumer products, including a GPS & environment tracker and home IP camera, designed fully in-house with secure hardware elements that are tailor fit for the IoTeX platform. The release of these trusted IoT devices serves as the genesis for IoTeX's vision of the Internet of Trusted Things.
"As a highly respected figure in the blockchain and investing space, HashKey's onboarding as a strategic investor will surely help to accelerate IoTeX growth," said IoTeX Co-founder and CEO, Raullen Chai. "We look forward to a successful long-term partnership with HashKey to bring the Internet of Trusted Things to the masses."
HashKey Group's presence and reputation in Asia and IoTeX's technologically advanced platform have the potential to magnify the impact of blockchain and IoT globally. The two organizations look forward to working together to develop and raise awareness of blockchain-based IoT and privacy products.