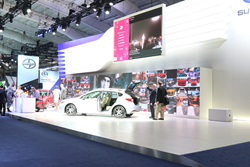 "We have created a better solution for live streaming at events that's simple, beautiful and intelligent." - Ciaran Blumenfeld, CEO of Hashtracking.com
New York, NY (PRWEB) April 05, 2016
On Wednesday, March 23rd, Hashtracking, the leading hashtag analytics company, unveiled their new, custom, data driven, live streaming walls at the New York Auto Show. The walls were 54 feet by 10 feet wide and featured both live tweets and Instagram posts derived from multiple hashtags and user accounts for a dramatic display of social media.
Displaying a wall of live tweets and Instagram posts to a group of people can be a powerful addition to any live event, conference, presentation, classroom discussion, as well as many other assemblies. The custom walls from Hashtracking can be optimized for a variety of displays – anything from a standard LCD screen to a three story building.
Hashtracking Social Streaming Walls can be shared publicly via URL, displayed on a monitor or screen or projected on a wall or screen at any live event. Set up can be accomplished in a matter of minutes. Streaming walls encourage hashtag participation, build buzz at live events and make fans and followers feel like celebrities.
"We have created a better solution for live streaming at events that's simple, beautiful and intelligent. Our data driven walls and custom social media shows support the needs of event planners and highlight their sponsors and VIP attendees. Our walls drive greater engagement at events with live contesting and real time results and make event wrap up & reporting so much easier with detailed data. They are simply beautiful!" said Ciaran Blumenfeld, co-founder and CEO for Hashtracking.com.
With the customizable options, users will be able to:

Moderate posts
Feature specific users
Issue badges and rewards to top contributors
Run social media contest with live results
Show interstitials and sponsor/ad content
Fully skin and brand their streaming wall with event theme
Provide full, detailed social media reporting post event
This product was created with one goal in mind – to make Hashtracking users look good by displaying real-time Instagram and Twitter feeds to event attendees, as well as a leaderboard which shows side-by-side results for multiple hashtags.
Hashtracking will be unveiling a basic version of the streaming wall this week to all paid subscribers. Users will have access to both image and full post style streaming walls for all hashtags that they are currently tracking. For more information or a price quote on a customized streaming wall like the one demonstrated at the New York Auto Show, contact Hashtracking customer service.
About Hashtracking, Inc.:
Hashtracking, Inc. provides real-time hashtag tracking and intelligence that give subscribers instant access to actionable data, helping them to run more successful campaigns and gain greater insight into customer conversations. Hashtracking, Inc. provides full-featured drill down reports, which supply powerful hashtag insight, including detailed contributor lists, influencer data and complete, searchable/filterable transcripts. Hashtracking, Inc. reports and graphics can be exported for use on websites and in presentations and/or shared on social media. Hashtracking offers streaming wall and leaderboard technology at no extra cost to subscribers. For non-subscribers, Hashtracking, Inc. offers a Free Explorer tool which provides a quick and easy way for anyone to get a snapshot of recent hashtag activity.