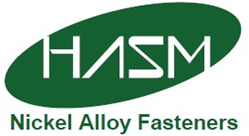 TORONTO (PRWEB) October 15, 2019
HASM is a renown and respected certified manufacturer of fasteners made from nickel-based superalloys, titanium, duplex, super duplex, and selective grades of austenitic stainless steel. Headquartered in South Korea, HASM has recently launched a North America sales office located in Toronto, Ontario to better serve distributors, OEMs and MRO customers. North American customers have the added benefit of no import duty, customs duty, or tariffs on HASM goods imported into the U.S. and Canada because the South Korean government has the Free Trade Agreement in place with both governments.
With 14 years of manufacturing experience with high-performance fasteners made from specialty alloys, HASM is becoming a global industry leader thanks to their expertise, high-quality materials, and premium manufacturing facilities. They are a one-stop-shop for anti-corrosive, nickel alloy fasteners in diameters from 1/8"- 3" (M3 - M80), with USCS/imperial and metric sizes, and accepts small and large orders for both standard and custom fasteners.
HASM products are used in various industries including the oil and gas, petrochemical and refining, chemical processing, aerospace, power generation, pharmaceutical, food and beverage, marine, pulp and paper, semiconductor, and water treatment. Precision products are all manufactured at HASM headquarter facilities in Korea employing both hot forming and cold heading technologies.
HASM is focused on 3 core principles; quality materials, quality production, and quick delivery. They source top-quality raw materials from the most trusted mills around the world, and are DFARS compliant as the specialty metals used are melted exclusively in the United States, Germany, Austria, Italy, France, and Japan. HASM is uniquely able to offer the quickest deliveries in the industry, at competitive price levels, because in addition to the 5-million dollar inventory of finished products, they maintain a 20-million dollar inventory of raw materials such as Inconel®, Hastelloy®, Incoloy®, Monel, A-286, Nickel, Titanium, AL-6XN, Duplex, Super Duplex, 6% Moly, and Austenitic Stainless Steel. Deliveries are shipped via FedEx to warehouses around the world in as quick as 3-4 weeks.
Visit HASM experts at the Abu Dhabi National Exhibition Centre, Hall 12 at Stand #12412, the 11-14 November 2019 to learn more about how HASM's develops, manufactures and distributes standard, and custom fasteners engineered from high-performance, nickel-based superalloys.
More About HASM Nickel Alloy Fasteners:
Headquartered in Ansan, South Korea, HASM is a privately-owned company that specializes in the development, manufacture and worldwide distribution of nickel alloy fasteners.
As the emerging leaders of high-quality, nickel alloy fasteners HASM is proud to serve distributors, equipment manufacturers, and MRO customers worldwide. Since 2005, HASM has grown from a single facility to four new locations. And, most recently, HASM opened a North American sales office in Toronto, Canada to better serve customers in the United States and Canada.