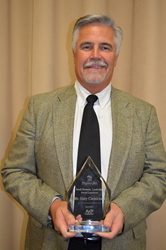 Hattiesburg, MS (PRWEB) May 17, 2017
Gary Carmichael is the recipient of the 2017 Small Business Leadership Award presented by William Carey University and the Area Development Partnership. The annual awards luncheon was held May 3 at Southern Oak House and Gardens.
Carmichael received his undergraduate degree from The University of Southern Mississippi in 1977 and his MBA in 1989. He is a Certified Public Accountant who transitioned into the manufacturing industry and eventually his own company. Prior to joining the PrideStaff team, Carmichael managed all facets of business operations for 25 years with the last 15 years in senior management positions related to plant management.
Carmichael opened his first PrideStaff office in July 2006 in Hattiesburg and a second location in Gulfport in October 2009. He is a Certified Staffing Professional by the American Staffing Association and has received several PrideStaff Presidents Circle Awards for achieving goals.
He was the chair of the Area Development Partnership Ambassadors from 2009 to 2011. He served for four years on the ADP executive board and was chair of the ADP in 2015. He is a past president and board member of the Hattiesburg Country Club and currently serves as treasurer. He served as vice president of membership from 2008-2009 for the local Society for Human Resource chapter and was secretary of the chapter from 2009 to 2011. From 2008-2009 he was director of professional development for Sales and Marketing Executives International. Carmichael has served on the board of the USM Alumni Association and is currently serving as vice chair of the USM Foundation. He is on the board of directors of the Mississippi ASA council and serves as vice chair.
Carmichael and his wife Wendy have one son, Chad.
WCU and the ADP established the Small Business Leadership Award in 1990 to recognize the important contributions small businesses make to the economic, social, and cultural life of the community and the particular achievements of one individual or family. The award is given in memory of Dr. Joe Roberts, former professor of communication at WCU. Dr. Roberts was also a successful businessman and one of the founders of Aycock-Roberts Furniture.
The award recipients are jointly chosen by WCU and the ADP. The individual or family must own or manage a business that meets the criteria established by the two organizations and must participate at the highest level of community service. The winner must also reflect Judeo-Christian values.
Guest speaker at the luncheon was Dr. Jeff Barnes, a 1985 graduate of Carey, who is dean of student success at California Baptist University. He is author of "The Wisdom of Walt: Leadership Lessons from the Happiest Place on Earth."
Scholarship Presentations
During the luncheon, scholarship awards were presented to William Carey University students. John Lindsey of Hattiesburg received the Richard "Pepper" Jones Endowed Scholarship. Clayton Rush of Mandeville, Louisiana, and Brooke Morales of Waynesboro received the School of Business Scholarships.
The WCU School of Business offers a Bachelor of Science in Business degree with majors in business administration and cross cultural business management as well as a Master of Business Administration degree. Both undergraduate and graduate degrees are offered on the Hattiesburg and the Tradition campuses. In December 2016, the International Assembly for Collegiate Business Education granted William Carey University first-time accreditation of the business and management programs offered through the School of Business.
About William Carey University: With campuses in Hattiesburg and Biloxi, William Carey University provides quality educational programs within a caring Christian academic community, which challenge the individual student to excel in scholarship, leadership, and service in a diverse global society. For more information, visit http://www.wmcarey.edu.
About PrideStaff
PrideStaff was founded in the 1970s as 100 percent company-owned units and began staffing franchising in 1995. They operate over 74 offices in North America to serve over 5,000 clients. With over 40 years in the staffing business, headquartered in Fresno, CA, PrideStaff offers the resources and expertise of a national firm with the spirit, dedication and personal service of smaller, entrepreneurial firms. PrideStaff is the only nationwide, commercial staffing firm in the U.S. and Canada with over $100 million in annual revenue to earn Inavero's prestigious Best of Staffing Diamond Award four years in a row highlighting exceptional client and talent service quality.
For more information on our services or for staffing franchise information, visit http://www.pridestaff.com.