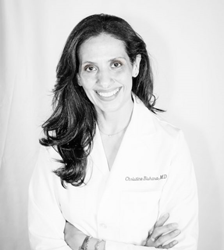 "A healthy body involves identifying multiple factors and creating the specific formula your body needs to achieve success."
NEW YORK (PRWEB) July 27, 2020
Haute Beauty welcomes Dr. Christine Bishara to the Haute Beauty Network.
Dr. Bishara is Board certified in Internal Medicine by the National Board of Physicians and Surgeons and is certified in Integrative Medical Weight Loss by the American Academy of Anti-Aging Medicine.
Dr. Christine Bishara is the founder of From Within Medical, a medical wellness practice that places emphasis on the mind-body and gut-brain axis to prevent and manage disease.
With over 20 years of clinical experience, time and time again, Dr. Bishara has discovered that the connection between these systems plays a significant role in disease prevention and management, but it has not been adequately addressed.
Her therapy involves a multidimensional and customized approach based on many factors and focuses on boosting the body's immune system. This includes, but is not limited to assessment of individual gut health, determination of neurotransmitter deficiencies and personalized anti-oxidant level screening.
She also understands the impact that daily demands and stress place on our bodies. This, compounded by nutritional depletion affects both our gut health and our mental health, making it hard to feel and look our best.
Dr. Bishara's experience as a physician and her own personal journey has taught her that success in weight loss is not limited to just dietary and nutritional needs. It involves identifying multiple factors and creating the specific formula your body needs to achieve success.
Visit Dr. Christine Bishara's website at Info@fromwithinmedical.com, or Follow Dr. Bishara on Instagram and Facebook!
Dr. Bishara also believes beauty complements body and brain. Her individualized treatments incorporate state of the art non-invasive aesthetic procedures.
"Body"
How do you achieve the physical health you desire?
Whether it's to lose weight or improve your overall health, a multidimensional approach that addresses your nutritional and metabolic needs is the key to success. We are each unique, which is why a one size fits all approach is never the answer. Through a customized assessment, Dr. Bishara will unlock what works best for your body.
"Brain"
How do you optimize your cognitive function and balance your frame of mind?
Discovering your unique gut-brain axis through a personalized gut analysis is one of the key components to unlocking your mental potential and well being. Finding your specific formula will unleash the power of your mind and optimize mental health.
"Beauty"
What does being beautiful mean to you?
Everyone wants to look their best and it goes hand in hand with feeling your best. My approach to medical aesthetics is to provide services and procedures that help you look your best, while still looking like you.
About Haute Beauty:
Haute Beauty offers readers access to an invite-only, prominent collective of leading doctors and industry-leading aesthetic surgeons located in their area. Haute Beauty is affiliated with the luxury lifestyle publication Haute Living. As a section of Haute Living magazine, Haute Beauty covers the latest advancements in beauty and wellness, providing readers with expert advice on aesthetic and reconstructive treatments through its network of acclaimed surgeons.
For more information about Haute Beauty, please visit: https://hauteliving.com/hautebeauty/