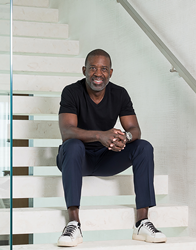 MIAMI (PRWEB) September 29, 2021
The Haute Design Network, well known for its exclusive and luxurious lifestyle publication Haute Living, is privileged to present Kirk Ivy as a member and expert in the interior design field. As a Haute Design partner, Kirk exclusively represents the Interior Design market of Aventura, Florida.
Designed as a partnership-driven luxury design portal featuring two leading interior designers in each prominent market across the world, Haute Design focuses on growing its member's brands as key influencers on design and deemed to be the best in their specific market.
ABOUT KIRK IVY
Kirk Ivy, from Kingston, Jamaica, has travelled and lived a few years abroad, which helped him get a clear vision of what service should be, and the standard to which his projects would hold. As an entrepreneur from a young age, he started his adventure in the luxury remodeling industry, with a goal and mission in mind: improving the experience throughout the construction industry.
When he started his own firm, Ivey Design Build, Kirk started building his great reputation for his trustworthy, honest and ethical way of conducting business. Kirk has worked in international markets, using his expertise in construction, interior design, and information technology architecture to thrive in this industry.
Currently, he resides in Miami, Florida where he oversees his team of architects, project managers, superintendents and interior designers who work collaboratively with his clients, to facilitate the process and ensure the experience is to the Ivey Standard. He has spear-headed major projects for high-net-worth residential clients in Miami, Florida and the South Hamptons, New York.
Kirk has worked in most of the luxury condos in south Florida, to name a few, Ritz Carlton Residences (Miami Beach), Trump Towers, Marquis Residences, Presidential Estates, Bal Harbor Towers, Oceana Bal Harbour, Aqualina, One Paraiso and the Epic Condo. Builder to major entities in Jamaica such as Super Clubs, Air Jamaica and Victoria Mutual, Kirk continues to create an unparalleled design experience with cutting edge technology, together with an exceptional network of industry experts. With his continued mission of providing his clients quality, efficiency, and client satisfaction together with his keen eye for the details, Kirk proves to be a great partner to work with for designers and architects nationwide.