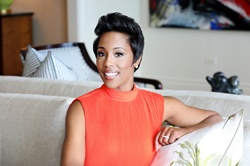 CHICAGO (PRWEB) November 08, 2021
The Haute Design Network, well known for its exclusive and luxurious lifestyle publication Haute Living, is privileged to present Lakesha Rose, founder of L Rose Interiors, as a member and expert in the interior design field. As a Haute Design partner, L Rose Interiors exclusively represents the Interior Design market of Chicago, Illinois.
Designed as a partnership-driven luxury design portal featuring two leading interior designers in each prominent market across the world, Haute Design focuses on growing its member's brands as key influencers on design and deemed to be the best in their specific market.
ABOUT L ROSE INTERIORS
L Rose Interiors is an allied ASID and IIDA member and a full-service interior design firm that manages projects throughout the country. They have a comprehensive understanding of custom furnishings, antiques, textiles, and fine art. L Rose Interiors specializes in high-end residential and commercial build-outs, sharing solid relationships with some of the industry's most talented architects, contractors, and vendors.
Lakesha Rose has been in the field of construction and design for 19 years. Her strength lies in the integration of interior design and structure. Her trademark style is evident through the sophisticated use of texture, color, and light, and every home she designs receives her personal signature of timeless elegance and innovative simplicity.