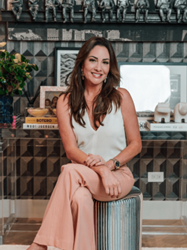 "A successful project is one in which we exceed expectations by far. "
MIAMI (PRWEB) April 05, 2021
The Haute Design Network, well known for its exclusive and luxurious lifestyle publication Haute Living, is privileged to present Luciana Fragali of Design Solutions as a member and expert in the interior design field. As a Haute Design partner, Luciana Fragali exclusively represents the Interior Design market of Miami, Florida.
Designed as a partnership-driven luxury design portal featuring two leading interior designers in each prominent market across the world, Haute Design focuses on growing its member's brands as key influencers on design and deemed to be the best in their specific market.
ABOUT LUCIANA FRAGALI
Guided by a passion for design and architecture Luciana Fragali first pursued her studies in architecture and interior design in her native Brazil and later received a degree in interior design at the Fort Lauderdale Art Institute before launching her design firm, Design Solutions, in 2005. Luciana Fragali, who has owned Miami-based Design Solutions for 15 years, has completed over 400 high-end residential and commercial projects to date.
Fragali's unique design aesthetic, as well as her own philosophy of "I love what I do, simple as that" regardless of whether the setting is residential, commercial, or recreational, quickly elevated Design Solutions to one of the most highly recognized interior design and architectural firms in South Florida. Fragali places great value in client relationships, crediting them as an invaluable part of the design process. "I strive to create friendships with my clients. Achieving a personal appreciation for each other's benefits the design process tremendously", she says. Even with 15 years of success as the owner of Design Solutions and international recognition of her design talents to her credit, Fragali still defines success in her ability to continually raise the bar. "A successful project is one in which we exceed expectations by far. If we give the client exactly what they had in mind, we fail," she says. "We strive to implement design solutions that fulfill the intended objectives in unexpected, innovative ways."