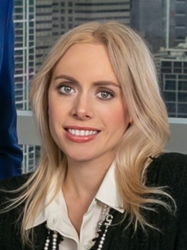 Andrea has helped negotiate the sale and purchase of many of the finest properties in Philadelphia.
PHILADELPHIA (PRWEB) May 05, 2022
Andrea Desy Edrei started KW Black Label Luxury Real Estate after a highly successful career where she quickly became one of the top 10 Realtors in Philadelphia for over a decade. Andrea was recruited by top brokerage firms in New York and Philly before launching Black Label. She is licensed in New York, New Jersey, and Pennsylvania. Andrea has helped negotiate the sale and purchase of many of the finest properties in Philadelphia. Throughout her career she has represented buyers and sellers for one-of-a-kind estate properties as well as large scale developers, seasoned investors, high-end luxury condo and co-op buyers, and international clients looking to expand their real estate portfolios. Andrea was born into the real estate industry and her extensive knowledge came at an early age. She has been licensed since the age of 18 and grew up going to planning and development meetings with her father who is one of the Top 40 residential Builders in the country (based in suburban Detroit). She has incredible experience working with international clients, Forbes List clients, Developers, Investors, NBA & NFL athletes, Celebrities, Fortune 50, 100 & 500 CEOs. She is a People Person and truly understands her clients' individual needs and goals.
She has traveled the globe from Miami, the Caribbean, Europe, LA, and beyond to preview properties for her clients looking for an honest market opinion. Andrea has repeatedly earned the highest sales honors given to only the top Realtors each year with the highest sales volume and is in the top 1/2% of Realtors nationwide. Her expertise in Relocation came through living around the globe including suburban Detroit, Madrid, London, New York, and Philadelphia. Andrea attended the prestigious New York University with an Academic & Athletic Scholarship for Basketball & Volleyball, was a key member of the 1997 NYU Women's National Championship basketball team, and graduated with Honors. She also studied at the University College of London. Andrea resides in Philadelphia with her husband and enjoys running, tennis, skiing, art, traveling, and volunteering for various charities. She is an active board member of the Grammy-nominated Clarion Music Society. She is fluent in Spanish and exceeds the client's real estate expectations.
Visit Andrea Desy Edrei's Haute Residence Profile: https://www.hauteresidence.com/member/andrea-desy-edrei/
ABOUT HAUTE RESIDENCE
Designed as a partnership-driven luxury real estate portal, Haute Residence connects its affluent readers with top real estate professionals, while offering the latest in real estate news, showcasing the world's most extraordinary residences on the market and sharing expert advice from its knowledgeable and experienced real estate partners. The invitation-only luxury real estate network, which partners with just one agent in every market, unites a distinguished collective of leading real estate agents and brokers and highlights the most extravagant properties in leading markets around the globe for affluent buyers, sellers, and real estate enthusiasts. HauteResidence.com has grown to be the number one news source for million-dollar listings, high-end residential developments, celebrity real estate, and more.
Access all of this information and more by visiting http://www.hauteresidence.com