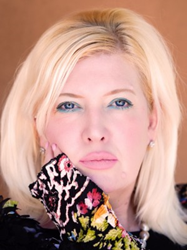 A background in business and law gives KC Martin a decided edge in real estate negotiations, contract examination, and execution.
PARIS (PRWEB) August 16, 2022
Haute Residence and acclaimed real estate agent, KC Martin, take their partnership into its third year. As a Haute Residence member, KC Martin exclusively represents the high-end real estate market in Paris, France.
A background in business and law gives KC Martin a decided edge in real estate negotiations, contract examination, and execution. Professional and ethical, KC enjoys the "art of selling" and the strategic ingenuity behind it. She prides herself on her discretion and business acumen in putting together deals efficiently by thinking outside the box while working with sellers, buyers, and investors of all types.
As a top producer and luxury broker with Sotheby's for over 15 years, KC always facilitates the best deal possible for her clients. She eases the buying and selling process of distinctive luxury real estate and luxury assets internationally through an ultra-private and high-end, exclusive network, while also facilitating direct access to Sotheby's International Realty and Sotheby's Auction House. Her clients include an array of high-net-worth individuals from all avenues of business, including investment banking, technology, fashion, conservation, fine art, film and television, music and entertainment, entrepreneurs, restauranteurs, celebrity chefs, CEOs, and international royalty.
Originally from the East Coast, KC loves to travel, cook, and fly. She is also a global brand ambassador for Blaise Mautin, Parfumeur (Paris) http://bit.ly/2v5k7GE, one of the world's most exclusive bespoke perfumers and fragrance brands, with its products carried exclusively at 50 of the finest and most luxurious 5-star hotels internationally.
Visit KC Martin's Haute Residence Profile: https://www.hauteresidence.com/member/kc-martin/
ABOUT HAUTE RESIDENCE
Designed as a partnership-driven luxury real estate portal, Haute Residence connects its affluent readers with top real estate professionals, while offering the latest in real estate news, showcasing the world's most extraordinary residences on the market and sharing expert advice from its knowledgeable and experienced real estate partners. The invitation-only luxury real estate network, which partners with just one agent in every market, unites a distinguished collective of leading real estate agents and brokers and highlights the most extravagant properties in leading markets around the globe for affluent buyers, sellers, and real estate enthusiasts. HauteResidence.com has grown to be the number one news source for million-dollar listings, high-end residential developments, celebrity real estate, and more.
Access all of this information and more by visiting http://www.hauteresidence.com