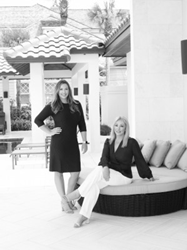 Together, they have a remarkable sales record of over $128.5 million in 2020.
PONTE VEDRA BEACH, Fla. (PRWEB) November 15, 2021
Combining 38 years of experience and unparalleled luxury real estate services, Kim Martin-Fisher and Jennifer Martin Faulkner are an acclaimed team of realtors who have ranked as the #1 real estate team and top sales team two years running. Together, they have a remarkable sales record of over $128.5 million in 2020 and devote themselves to ensuring each customer receives their highest level of care and personal attention.
When you work with Kim and Jennifer, you can anticipate collaborating with a team to help facilitate each of your real estate goals and make the transaction as smooth and seamless as possible. They have created an esteemed and enriching marketing plan guaranteed to give your home a desirable boost and help cultivate profit.
Their plan includes a diverse profile of professional photos and videos, email flyers, high-gloss postcards, SEO optimization for Google ads, newspaper advertisements, high-quality brochures, and digital advertising in the Jacksonville Business Journal. They also host open houses for brokers and feature properties on major networks like CNBC, Fox News, CNN, Bravo, ESPN (locally), and MSNBC.
This professional, diligent, mother-daughter team is dedicated to using every possible venue to properly market your home. Uniting quality and consistency, Kim and Jennifer work efficiently at cultivating the ultimate customer service experience.
Visit Kim Martin-Fisher and Jennifer Martin Faulkner's Haute Residence Profile: https://www.hauteresidence.com/member/kim-martin-fisher-and-jennifer-martin-faulkner/
ABOUT HAUTE RESIDENCE
Designed as a partnership-driven luxury real estate portal, Haute Residence connects its affluent readers with top real estate professionals, while offering the latest in real estate news, showcasing the world's most extraordinary residences on the market and sharing expert advice from its knowledgeable and experienced real estate partners. The invitation-only luxury real estate network, which partners with just one agent in every market, unites a distinguished collective of leading real estate agents and brokers and highlights the most extravagant properties in leading markets around the globe for affluent buyers, sellers, and real estate enthusiasts. HauteResidence.com has grown to be the number one news source for million-dollar listings, high-end residential developments, celebrity real estate, and more.
Access all of this information and more by visiting http://www.hauteresidence.com