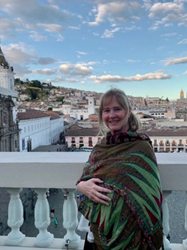 Sharing the Santa Ynez Valley lifestyle with my clients is what I love the most about what I do.
SANTA YNEZ VALLEY, Calif. (PRWEB) March 03, 2021
Haute Residence is pleased to welcome Patty Murphy to the exclusive Haute Residence Network as its representative in the Santa Ynez Valley, California luxury real estate market.
Patty Murphy's real estate expertise helped her close over $100,000,000 in sales in the year 2020 and spans over 30 years specializing in country estates, ranches and vineyards. With a proven record of selling many of the most prestigious properties on the Central Coast of California including the sale of the 3,300-acre Bar Go Ranch and the Murphy-Goode wine business, Patty is proud of the distinguished clientele that she has the pleasure to represent.
Patty is an accomplished equestrian as well as an avid conservationist with a unique skill set evolved from years in various business ventures from working for Pepsico in Puerto Rico to managing Winchester Canyon Farms, an organic farming business in Santa Barbara. Her BA is from UCSB and she will be forever grateful for her education bringing her to this stunning part of the planet to work every day at something she loves.
Sotheby's International Realty — Santa Ynez Valley Brokerage
CalBRE#: 00766586
"Sharing the Santa Ynez Valley lifestyle with my clients is what I love the most about what I do," she says.
Visit Patty Murphy's Haute Residence profile: https://www.hauteresidence.com/member/patty-murphy/
Visit Patty Murphy's website: http://www.pattymurphy.com
ABOUT HAUTE RESIDENCE
Designed as a partnership-driven luxury real estate portal, Haute Residence connects its affluent readers with top real estate professionals, while offering the latest in real estate news, showcasing the world's most extraordinary residences on the market and sharing expert advice from its knowledgeable and experienced real estate partners.
The invitation-only luxury real estate network, which partners with just one agent in every market, unites a distinguished collective of leading real estate agents and brokers and highlights the most extravagant properties in leading markets around the globe for affluent buyers, sellers, and real estate enthusiasts.
HauteResidence.com has grown to be the number one news source for million-dollar listings, high-end residential developments, celebrity real estate, and more.
Access all of this information and more by visiting http://www.hauteresidence.com