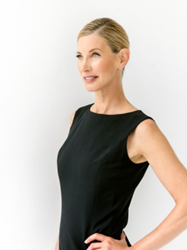 She is ranked in the top 1.5% of all agents across the United States by the Wall Street Journal/Real Trends and co-founded several top producer agent teams.
GREENWICH, Conn. (PRWEB) October 02, 2020
Haute Residence is pleased to welcome Robin Kencel to the exclusive Haute Residence Network as its representative in the Greenwich, Connecticut luxury real estate market.
Robin Kencel is a founding agent of the Compass Greenwich office and one of the top 10 agents in the Greenwich market. She is ranked in the top 1.5% of all agents across the United States by the Wall Street Journal/Real Trends and co-founded several top producer agent teams. She is listed in Who's Who In Luxury Real Estate and is a member of the Compass Luxury Division and Sports & Entertainment Division. Her team concentrates in Greenwich, Connecticut, and has a vibrant network of premier agents in other Connecticut and U.S. luxury towns.
Robin applies the business acumen she honed in the Executive Suite of Fortune 100 companies to brilliant effect in the real estate profession. Sharp negotiating skills, precise timing and expertise in marketing and strategic planning seamlessly unite to give her an impressive track record across all price segments, from introductory condominiums to multi-million-dollar properties.
Beyond the facts and numbers, Robin's deep roots in the worlds of interior design and historic preservation give her a unique perspective on every home. Whether preparing their homes for sale or evaluating the strength of a home under consideration, buyers and sellers seek Robin out precisely because she brings her full skill set-creativity, drive, and detail-oriented focus to every transaction.
As a six-time national ballroom champion, Robin applies the same high level of discipline and nimbleness her art demands to the real estate buying and selling process. Her enthusiasm for the art of the business is evident every step of the way. Robin's integrity, extreme discretion, and commitment to success across the board have allowed her to build long-term relationships with clients from the worlds of finance, entertainment, professional sports, and business.
A Connecticut native and longtime Greenwich resident, Robin is also energetically invested in the community at large. She is chair of the Greenwich Historical Society's Landmark Recognition Program, a member of the First Selectman's Economic Advisory Council, and board member of the Town's public relations campaign, Think Greenwich. All proof positive of her unwavering commitment to the place where she lives, works, and serves her clients.
Visit Robin Kencel's Haute Residence profile: https://www.hauteresidence.com/member/robin-kencel/
Visit Robin Kencel's website: https://robinkencelgroup.com/
ABOUT HAUTE RESIDENCE
Designed as a partnership-driven luxury real estate portal, Haute Residence connects its affluent readers with top real estate professionals, while offering the latest in real estate news, showcasing the world's most extraordinary residences on the market and sharing expert advice from its knowledgeable and experienced real estate partners.
The invitation-only luxury real estate network, which partners with just one agent in every market, unites a distinguished collective of leading real estate agents and brokers and highlights the most extravagant properties in leading markets around the globe for affluent buyers, sellers, and real estate enthusiasts.
HauteResidence.com has grown to be the number one news source for million-dollar listings, high-end residential developments, celebrity real estate, and more.
Access all of this information and more by visiting http://www.hauteresidence.com