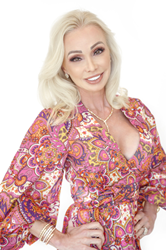 In the real estate market, instead of merely selling property, she outshines her competitors by pursuing spaces where she knows clients will thrive.
MIAMI BEACH, Fla. (PRWEB) February 02, 2021
Haute Residence is pleased to welcome Sandra Fiorenza to the exclusive Haute Residence Network as its representative in the Miami Beach, Florida luxury real estate market.
Sandra Fiorenza lives and breathes her creations, whether in luxury real estate, lifestyle branding, or philanthropy. In the real estate market, instead of merely selling property, she outshines her competitors by pursuing spaces where she knows clients will thrive. Sandra's lifestyle products, in turn, are an extension of a life lived among global and local elites: her expertise as a purveyor of luxury experiences is exceptional because it is grounded in decades of personal immersion.
Sandra's career in luxury real estate is as profound as it is dazzling, beginning when she relocated to Miami from her native Germany in 1998. She was prescient in recognizing Miami's potential as a location poised for global significance as early as 1992 when she briefly called the city home during an internship. "Even then, when Miami was still sleepy, I thought: this is where I want to live." She returned to Europe with her heart set on her dream destination, earning her MBA and working in the advertising and fashion industries. Six years later, Sandra was ready to make Miami her forever home, arriving just in time to witness – and participate in – the city's transformation into a cultural mecca, global lifestyle destination, and international business hub.
In 2010, she partnered with ONE Sotheby's International Realty and grew her sphere of influence from Miami Beach's waterfront and the surrounding islands to high-end Coral Gables, Pinecrest, and neighboring communities, utilizing her extensive social network and global acumen to deliver unique homes to local, national, and international clients. Sandra has accumulated about $300 million in total sales with $30 million just in 2020.
Sandra's latest lifestyle project will only be accessible to a few hand-picked clients, "so I can't reveal too many details," she says. Suffice it to say it revolves around creating bespoke, ultra-luxurious travel experiences on the new 900-feet super yacht Njord, which is designed by Ocean Residences and will house 118 luxury apartments alongside helicopters, flat-bottom RIBs for Antarctica, and limousine tenders for the Mediterranean. Sandra's experience in the international luxury world and lifestyle sector perfectly position her to market the project and select suitable clients from around the world. "With Njord, we're placing the world at your feet and allowing a few like-minded individuals to circumnavigate the globe from the comfort of their luxury homes."
Visit Sandra Fiorenza's Haute Residence profile: https://www.hauteresidence.com/member/sandra-fiorenza/
Visit Sandra Fiorenza's website: https://www.sandrafiorenza.com/
ABOUT HAUTE RESIDENCE
Designed as a partnership-driven luxury real estate portal, Haute Residence connects its affluent readers with top real estate professionals, while offering the latest in real estate news, showcasing the world's most extraordinary residences on the market and sharing expert advice from its knowledgeable and experienced real estate partners.
The invitation-only luxury real estate network, which partners with just one agent in every market, unites a distinguished collective of leading real estate agents and brokers and highlights the most extravagant properties in leading markets around the globe for affluent buyers, sellers, and real estate enthusiasts.
HauteResidence.com has grown to be the number one news source for million-dollar listings, high-end residential developments, celebrity real estate, and more.
Access all of this information and more by visiting http://www.hauteresidence.com