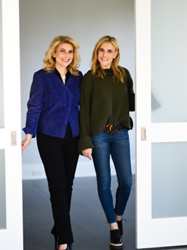 As a powerful team of two, The Angela Retelny Team's record of success and expertise positions them among the top realtors in Scarsdale, New York, and throughout Westchester County.
WESTCHESTER, N.Y. (PRWEB) October 14, 2020
Haute Residence is pleased to welcome The Angela Retelny Team, led by Angela Retelny and Jessica Retelny Shames, to the exclusive Haute Residence Network as its representative in the Westchester, New York real estate market.
As a powerful team of two, The Angela Retelny Team's record of success and expertise positions them among the top realtors in Scarsdale, New York, and throughout Westchester County. They are ranked among the nation's top 1.5% of real estate agents by REAL TRENDS - America's Best Real Estate Professionals (Small Teams by Closed Sales Volume).
With over two decades of local market expertise and nearly $375 million in closed sales, Angela Retelny is among the most distinguished and sought-after real estate brokers in Scarsdale and Westchester County, New York. She also leads the award-winning Angela Retelny Team at Compass alongside her daughter, Jessica Retelny Shames.
Throughout her career, Angela has successfully navigated and performed in challenging and highly-competitive markets. She effectively negotiates complex transactions and anticipates and resolves obstacles well in advance, leading her clients to a seamless closing. Angela draws upon her vast industry experience, resilience, passion, and endless energy to counsel her global clientele and serves as an invaluable asset for buyers, sellers, developers, and investors.
The dynamic mother-daughter team applies their unique perspectives and complementary strengths into successful real estate strategies for their sophisticated clientele. Working together, Angela and Jessica provide an unprecedented level of personal attention and service that extends above-and-beyond the real estate transaction. Angela and Jessica leave no stone unturned and guide their buyers towards intelligent property acquisitions that match their unique preferences and goals while generating value over time.
Considered a top listing agent in Scarsdale and Westchester, Angela's sophisticated marketing background enables her to position her listings flawlessly to attract today's discerning buyers. Angela and Jessica personally stage and style their listings and work exclusively with an elite group of photographers and videographers that capture the caliber of imagery required for the team's standout property marketing and presentation. Jessica further develops tailored lifestyle marketing campaigns showcasing each property's essence, while taking full advantage of Compass' cutting-edge technology powered by artificial intelligence. The Angela Retelny Team's glowing reviews are further substantiated with enthusiastic client referrals who wholeheartedly recommend Angela Retelny and her team to their own families, friends, and networks.
Prior to joining Compass, Angela Retelny was the Number 1 Agent at Julia B. Fee Sotheby's International Realty's Scarsdale Brokerage ranked by Sales Volume for 2015. She was also ranked within the Top 1% of Sotheby's Agents Company Wide. Angela is often featured, quoted, and sourced as a Westchester real estate expert in leading print, digital, and media publications.
Visit the Angela Retelny Team's Haute Residence profile: https://www.hauteresidence.com/member/angela-retelny/
Visit the Angela Retelny Team's website: https://www.angelaretelny.com/
ABOUT HAUTE RESIDENCE
Designed as a partnership-driven luxury real estate portal, Haute Residence connects its affluent readers with top real estate professionals, while offering the latest in real estate news, showcasing the world's most extraordinary residences on the market and sharing expert advice from its knowledgeable and experienced real estate partners.
The invitation-only luxury real estate network, which partners with just one agent in every market, unites a distinguished collective of leading real estate agents and brokers and highlights the most extravagant properties in leading markets around the globe for affluent buyers, sellers, and real estate enthusiasts.
HauteResidence.com has grown to be the number one news source for million-dollar listings, high-end residential developments, celebrity real estate, and more.
Access all of this information and more by visiting: http://www.hauteresidence.com