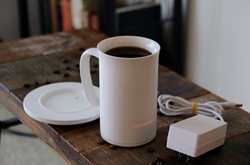 HERMOSA BEACH, Calif. (PRWEB) February 24, 2021
Enjoy a perfectly hot cup of coffee or tea in HAVA Mug, the only smart mug that learns temperature preferences and keeps beverages at that ideal temperature from first sip to final drop. Launching on Kickstarter today, this AI-enhanced ceramic mug and charging coaster puts an end to lukewarm beverages and interrupted moments.
When coffee or tea is left in an open mug, it cools quickly. But gulping a piping hot cup isn't a solution, as the moments created with hot drinks like these should be savored. From jumpstarting the morning with a cup of coffee to winding down with a cup of relaxing tea, these moments shouldn't be rushed.
HAVA Mug is a 10-ounce, self-heating ceramic smart mug that keeps beverages at each drinker's preferred temperature with the swipe of a finger directly on the mug. The ceramic absorbs the excess heat, while advanced heating and battery technology keep the mug's contents heated without a lid for up to two hours off the charging coaster, and indefinitely while on the coaster.
"No one enjoys when their coffee goes cold, but reheating mugs of coffee or tea ruin the flavor profiles and waste time," said Nate Thuli, founder of HAVA Mug. "The beauty of HAVA Mug is how we're using technology to enhance people's lives. We've created a product that lets people focus on the moment instead of dealing with a lukewarm beverage in their cup."
According to the National Coffee Association, 69% of Americans consumed coffee within the past week. Coffee drinkers report consuming an average of 3.1 cups every day. That's a lot of coffee.
HAVA Mug uses advanced algorithms to monitor the temperature of the beverage and heat it to a user-specified temperature. By swiping a finger along the side of the hard plastic housing of the ceramic mug, the temperature can be increased or decreased. HAVA Mug will eventually learn a user's temperature preference, even down to the time of day, and automatically set. LED lights indicate the temperature setting up to 150℉. An app currently under development will also allow users to control their mug, display temperatures, set a brewing time for tea and receive notifications when it's ready.
HAVA Mug's charging coaster serves two purposes. The first is to charge the mug for on-the-go temperature-controlled drinking. A single charge to the mug can provide up to two hours of heating. When the mug is resting on the coaster, the beverage can reach a simmering temperature - perfect for brewing fresh cups of tea. If on the coaster all day, the mug's contents will never go cold.
To pre-order a HAVA Mug, visit pr.go2.fund/havamug.
About HAVA Mug
HAVA Mug is a small team with a passion for great coffee and tea. HAVA Mug believes the perfect hot drink is more than the combination of high-quality ingredients. It's an opportunity for a meaningful social connection. By using innovative technologies, HAVA Mug enhances the coffee- and tea-drinking experience by keeping beverages at each customer's preferred temperature. HAVA Mug is passionate about using beautiful design and advanced technology to create a great cup of coffee or tea for every customer. For more information, visit http://www.havamug.com.