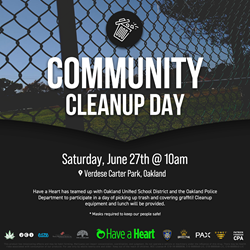 OAKLAND, Calif. (PRWEB) June 25, 2020
On June 27th, owner of cannabis retailer, Have a Heart in downtown Oakland, Joshua Chase, plans inaugural bi-monthly clean-up day in his hometown of Oakland. The first of many clean-up days will occur in the neighborhood surrounding Elmhurst United Middle School, in east Oakland.
"It has been a lifelong dream to be at a point in my career in which I can give back to the community that has given me so much," said Joshua Chase, Owner of Have a Heart in downtown Oakland. "Oakland has helped me build a strong foundation to succeed in life and I hope to pass forward this ideology to the new generation of Oakland residents."
In partnership with the Oakland Unified School District (OUSD), Oakland Police Department (OPD) and Adopt a Spot, all trash pick-up and graffiti removal supplies and equipment will be provided as well as lunch for all volunteers.
"As a teacher, especially a teacher during the time of distance learning, coming back to the campus has not been a priority, or even an option in many cases. Though the building is closed, schools are often the heart of the community for our kids," said Kiara Herrera, a teacher at Elmhurst Elementary. "Having an opportunity like this event reminds me how much energy and life I get from being on campus, and I'm excited for visitors to come and experience a piece of that."
With the current state of communities around the world, Chase thought long and hard about what he can do to help and provide some positivity during these challenging times. From the world shutting down and loss of life plaguing the world due to Covid-19 to the rioting and looting occurring right outside of Chase's store, he knew that he needed to help bring the community together to do good and work in unison towards a common cause.
About Have a Heart in Downtown Oakland
Have a Heart opened its doors in downtown Oakland on September 28th, 2019 and has been providing members of the community high quality cannabis while employing the most knowledgeable budtenders in the industry ever since. The company has plans to open a second location in Oakland within the next year since a second cannabis license was awarded to owner, Chase last month.
For more information, visit http://www.HaveAHeartCC.com or follow us on Facebook, Twitter or Instagram.
For further information, please contact: Joshua Chase
E-mail: Joshua.eugene.chase@gmail.com