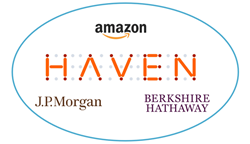 The stresses placed on healthcare providers and consumers by the COVID-19 crisis have accelerated change and innovation in ways no one would have envisioned one short year ago. Disruption is here now. - Kevin Fleming, CEO, Loyale Healthcare
LAFAYETTE, Calif. (PRWEB) January 13, 2021
Haven, the healthcare joint venture created by Amazon, Berkshire Hathaway and JP Morgan to disrupt healthcare in the U.S., announced early last week that it will shut down by the end of February. As reported by Hugh Son of CNBC, "Many of the Boston-based firm's 57 workers are expected to be placed at Amazon, Berkshire Hathaway or JP Morgan Chase as the firm's individually push forward in their efforts, and the three companies are still expected to collaborate informally on healthcare-related projects."
When the company was launched by these giants in technology, finance, retail and infrastructure in 2018 to "tackle one of the biggest problems facing corporate America – high and rising costs for employee health care," financial markets reacted by driving the price of other healthcare companies down. However, although the company's now-defunct website states that "Haven explored a wide range of healthcare solutions, as well as piloted new ways to make primary care easier to access, insurance benefits simpler to understand and easier to use, and prescription drugs more affordable," it failed to be the disruptor industry watchers and investors imagined.
According to the CNBC report, "One key issue facing Haven was that while the firm came up with ideas, each of the three founding companies executed their own projects separately with their own employees, obviating the need for the joint venture to begin with." We have studied several of these more prominent healthcare initiatives, most recently in an article titled, "Is Amazon's Expanding Push into Healthcare Anything for Health Systems to Worry About?" In that analysis, we shared research and insights indicating that Amazon "is serious about entering healthcare, bringing with it a non-traditional business model, infrastructure in logistics & computing, and customer love."
Later reporting by Annalisa Merelli in Quartz provides some additional insights into the reasons for Haven's closure. Noting that "Haven's goal was ambitious: to lower healthcare costs, first for the three companies' hundreds of thousands of employees, and potentially for all Americans," the article goes on to speculate that it may have been hampered by personnel issues (including inexperienced leadership from CEO and famed physician, author and researcher Atul Gawande), an ill-defined or nonexistent business plan and the already cited stakeholder overlap.
Haven's efforts to reduce costs for its member companies' employees were also hindered by the companies' geographic diversity. They discovered that "Healthcare benefits are dependent on the location of the employee, and Haven couldn't introduce the same programs to all local markets. Instead it would have to set up plans wherever they had employees, without the critical mass to make it a worthwhile endeavor."
When presenting Haven in 2018, Warren Buffet of Berkshire Hathaway famously told CNBC that "Healthcare is the tapeworm of the American Economy," representing 20% of America's GDP by 2028, and 66.5% of all bankruptcy filings caused by medical expenses. Haven failed to be an effective treatment for the "tapeworm." But at Loyale, we strenuously reject the notion that "By folding, Haven reduces hope in the possibility that private enterprise might fix US healthcare."
One can't dispute the logic in the question, "If some of the smartest, richest, most knowledgeable, well connected and ambitious leaders in the room could not find a way to disrupt American healthcare, then who can?" But in our work with health systems across the country, we have observed that the disruption anticipated from Haven wasn't obviated by the individual efforts of Haven's stakeholder companies alone. In truth, traditional and emerging healthcare providers everywhere have been rushed to innovate disruptive new strategies and operating models by the COVID-19 pandemic. In essence, Haven as a concept has been rendered irrelevant by dramatic changes in the marketplace – especially among consumers.
We explored the phenomenon in a recent article titled, "4 Changes Healthcare Providers Must Embrace for Success after COVID." In that analysis, we acknowledged healthcare's historic, structural resistance to change noting that, "Change is hard…Unless something really extraordinary happens, getting people to stop doing things a familiar way and to adopt a new way is hard work. Unless there is huge latent demand for the "new way" (e.g., smart phones), change takes time and trouble – usually a lot of it… Then in early 2020, COVID-19 hit the US, ushering in what may end up being the most transformational series of events in the history of America's healthcare system."
In the brighter days ahead when healthcare looks back at the difficulties it faced in 2020 and hopefully no more than the first half of 2021, the industry will also see a turning point. Driven by surging consumer demand for value and convenience, new technology-enabled care delivery models and intensifying competition from emerging primary care providers, healthcare now finds itself at the threshold of a new age. An age defined by patients, and the systems that enable a patient-centered experience in every dimension of care.
This prediction is supported by analysis titled, "Health Systems, COVID-19 and the Redefined Healthcare Landscape in 2021 and Beyond," where we examined healthcare industry research published by consulting firm KaufmanHall in their 2020 State of Healthcare Performance Improvement Report: The Impact of COVID-19. The report paints a picture of an industry that continues to reel from financial damage, but whose "ability to leverage the positive impacts of the pandemic as they work to mitigate its negative impacts will have a significant effect on their long-term health and the health of the communities they serve."
This analysis summarized interviews with survey respondents, all healthcare leaders. When sharing their thoughts on how the pandemic will change their organizations and, potentially, the industry, their responses fell into five categories: 1) An enhanced sense of "systemness"; 2) A newfound nimbleness in adapting to rapid change; 3) A realized return on investments in analytics; 5) Strengthened (community/market) relationships; and 6) Different payment models.
These are of course broad categories, but all of them support the development and maintenance of a more consumer-friendly healthcare "product." One that, through technology and refined logistics, begins to achieve the ambitions that Haven aspired to and markets longed for. And though Haven failed to achieve its goal of making care more affordable and accessible, those outcomes can be realized – even by traditional healthcare providers. The stresses placed on healthcare providers and consumers by the COVID-19 crisis have accelerated change and innovation in ways no one would have envisioned one short year ago. As we stated above, disruption is here. Now.
Over the next couple of years, health systems, hospitals and other care providers will be closely examining the new ways they interacted with patients, peers and their communities during the COVID-19 crisis. Continued regulatory support from the Department of Health and Human Services (HHS) and the Centers for Medicare & Medicaid Services (CMS) will advance and promote consumerism in healthcare, and ambitious new primary care providers like Walgreens, CVS, Walmart and others will leverage their vast networks and customer-first ethos' to grow market share. The winners in this transformed healthcare marketplace will be the providers that find ways to deliver access and affordability – along with elevated experiences in every dimension of care - clinical, financial, and administrative.
We at Loyale applaud the objectives that led Amazon, Berkshire Hathaway and JP Morgan to create Haven, but we're not mourning its demise because its ambitions are being achieved in other places. We are also optimistic about traditional providers' future in the transformed healthcare marketplace. The clinical excellence that has defined their brands, and the community good will they have built, give them a sizable competitive advantage. As long as providers respond to transformed patient expectations, we're confident they will continue to dominate market share and consumer loyalty. How do we know? Because some of the largest healthcare companies in the country are working with us to do just that.
Kevin Fleming is the CEO of Loyale Healthcare
About Loyale
Loyale Patient Financial Manager™ is a comprehensive patient financial engagement technology platform leveraging a suite of configurable solution components including predictive analytics, intelligent workflows, multiple patient financing vehicles, communications, payments, digital front doors and other key capabilities.
Loyale Healthcare is committed to a mission of turning patient responsibility into lasting loyalty for its healthcare provider customers. Based in Lafayette, California, Loyale and its leadership team bring 27 years of expertise delivering leading financial engagement solutions for complex business environments. Loyale currently serves approximately 12,000 healthcare providers across 48 states. Loyale is proud to have an enterprise-level strategic partnership with Parallon which includes the deployment of Loyale's industry leading technology at all HCA hospitals and Physician Groups.