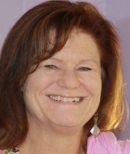 Kauai, Hawaii (PRWEB) October 17, 2013
Hawaiian Style Weddings is happy to present the promotion of Laurie Laroque from an independent wedding professional to the Lead Wedding Coordinator for Hawaiian Style Weddings. Laurie has been with the company for 3 years and has proven herself to be a motivated and superior leader in the wedding industry. She has worked with a couple different wedding companies throughout the last few years and we are thrilled with the new filled position.
LaRoque's experience with weddings began as a photographer in California where she photographed many weddings for the Disneyland Hotel. Her family traveled to Kauai for many years before moving there in 2005. She enjoys being a part-time student at the local community college and raising her youngest son of 14. She is very excited about coming into the office at Hawaiian Style Weddings because weddings are her passion! She tells us, "The joy, the fun, the art of bringing it all together for 2 special people is what service is all about, especially at Hawaiian Style Weddings. When I am a part of this process I bring my years of experience as a Professional Wedding Photographer coupled with 3 years of wedding coordination experience with Hawaiian Style Weddings. I look forward to being a real asset to each and every client we serve."
As the Lead Coordinator of Hawaiian Style Weddings, Laurie will be able to offer the full benefits by providing weddings on all the islands while also providing full service. The team at Hawaiian Style Weddings has expertise in all island locations. Hawaiian Style Weddings has over 150 different wedding vendors on Maui, Oahu, Kauai, and the Big Island of Hawaii for these weddings.
Laurie Laroque is a trusted coworker that we know will surpass couples expectations on their special day. Although Jana will be missed, Hawaiian Style Weddings hopes everyone is as excited as they are to welcome Laurie in this new position.