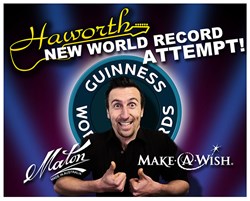 One of the auction items was the Maton ukulele I played during the record attempt...... It was sold for $650
(PRWEB) October 17, 2013
For the twenty-five hours over October 4 and 5, Glenn Haworth played ukulele to an ever-changing audience. Throughout the period though a representative from Guinness World Records was present to confirm that Mr Haworth met the criteria to set a world record.
While setting the record was a great personal achievement for Mr Haworth, it also raised over $10,000 for the children's charity Make A Wish Foundation.
This is a new Guinness World Record, and is the second to be achieved by Mr Haworth, who, back in 2009 set one for the most guitars strung and tuned in an hour.
To qualify for this record however Mr Haworth needed to play for 24 hours, with only a 5 minute break each hour.
"I decided to go for 25 hours, just to be sure," said Mr Haworth. "I was only allowed 30 seconds between songs, so I did have a four-hour set block prepared. The first song was 'Accidently In Love' by Counting Crows, but there was never any doubt about what the last song would be."
With the Make A Wish Foundation charity as his inspiration, the 25 hour ukulele playing marathon ended with his now-sore-fingered rendition of the Disney/Pinocchio classic 'When You Wish Upon A Star'.
As there were no rules preventing others joining him, Mr Haworth's family and friends sent out calls for others to come along with their own ukuleles, guitars, and other instruments, to play along with him.
"It made a big difference to my focus when I was jamming with others," he said. "Their encouragement and generosity of time renewed my own determination to succeed."
The Make A Wish Foundation was represented as well, hosting a barbecue to help boost the funds raised from the event. As well as the funds raised through Mr Haworth's Everyday Hero page https://give.everydayhero.com/au/glennhaworth (donations are still being accepted), an auction of supplier-donated musical instruments was held.
"One of the auction items was the Maton ukulele I played during the record attempt" said Mr Haworth. "It was sold for $650."
More information about the range of Maton ukuleles available from Haworth Music Centre can be found at http://www.haworthguitars.com.au/products/brands/maton/
About Haworth Music Centre
Haworth Guitars was first established in 1999 by guitar lover and luthier Phil Haworth. His intention was to focus on repairing and building stringed instruments, but in 2000 he added a retail element to his thriving workshop business.
In 2008 the two-level Haworth Music Centre was opened at Albion Park Rail, near Wollongong, south of Sydney, Australia. Staffed by people who thrive in an environment where their love of musical instruments, and music, are encouraged.
Phil now spends most of his time in his guitar workshop. Haworth Music Centre is now run by Phil's son, Glenn, who, as Managing Director has grown the business to include a very active online sales element, a vibrant social media presence, and huge community support.
In 2013 Haworth opened up a second retail outlet in Wollongong, NSW, which features purpose built test-drive rooms, including those for drums, guitars and amplifiers.
More information can be found at HaworthGuitars.com.au, or follow them on Facebook at https://www.facebook.com/haworthguitars