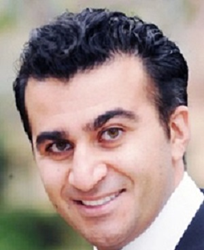 Hawthorne, CA (PRWEB) August 18, 2015
Dr. Yashari, dentist in Hawthorne, is now offering emergency dental exams at a reduced price. For a limited time only, patients can take advantage of this special offer, which includes an emergency dental visit, digital X-rays, a focused exam and a consultation for just $19. Dental emergencies can be frightening experiences, and without proper treatment, could lead to the loss of a tooth. This offer makes it easier and more affordable than ever for patients to get the emergency dental care that they need.
"Dr. Yashari's primary concern when treating patients is the relationship he forms with them. Dr. Yashari, family dentist, knows that without gaining a patient's trust, they will not be able to relax and feel as comfortable as possible. He believes that his patients … should have the confidence to ask any questions regarding their oral health and the procedures and treatments performed," states Dr. Yashari's team.
Common dental emergencies include:

Tooth pain
A broken or cracked tooth
A dislocated tooth
A tooth that has been knocked out
A lost dental crown, filling or other restoration
Some dental emergencies, such as a knocked-out or dislocated tooth, are true emergencies and should be treated as soon as possible. Some dental emergencies do not require immediate care, but they should be evaluated quickly. These include tooth pain and lost fillings. Hawthorne dentist, Dr. Yashari, offers both emergency and routine dental care in order to help patients find the best treatments for their needs. These may include root canal treatments, dental fillings, dental bonding, porcelain crowns and dental bridges.
About Dr. Yashari, Emergency Dentist Hawthorne
Dr. Yashari is a true Bruin who earned his undergraduate and graduate degrees from UCLA. UCLA's School of Dentistry is one of the top dental schools in the country. After graduation, Dr. Yashari spent time training under some of the area's leading periodontics, implantology and endodontics experts. He has a gentle, compassionate chairside manner that makes him popular with patients, including patients with long-standing dental phobias or anxiety. He is multilingual and welcomes patients from the South Bay, Manhattan Beach, Hermosa Beach, Torrance, Redondo Beach, Torrance, El Segundo and LAX areas.