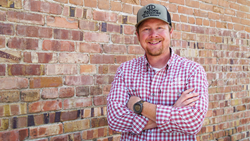 WINDSOR, Colo. (PRWEB) February 16, 2021
Season 2 of Hayden Outdoors Life on the Land TV show features more properties, more adventure and more amazing regions of America. Plus, it includes the presence of new host and Olympic shotgun shooter Allen Treadwell.
After airing their first season of Life on the Land TV show in 2020, Hayden Outdoors leadership looked to roll out a fresh new look that included bringing Treadwell onboard as the host, who has over a decade of TV host experience from popular outdoor industry brands, such as the Bass Pro Shops, Winchester and Tracker.
"The relationship with Allen and Hayden Outdoors goes back over 15 years, and this year was the perfect time for him to officially join our team as our show host," commented Dax Hayden, Managing Partner of Hayden Outdoors. "He's great on camera, experienced in working with sponsors, and knows the great outdoors. From horseback to hunting, farming and cattle to shooting sports and fishing, Allen's definitely more than prepared to host our show!" said Hayden.
Allen explained that "This year, everything lined up for this exciting opportunity. The Haydens have felt like part of my family for many years, and to officially become part of the team at Hayden Outdoors has been a long time coming. Life on the Land is a show featuring farming, hunting, land, fishing and family which is everything I am passionate about. I am proud to be a part of this team and Season 2 of Hayden Outdoors Life on the Land."
Allen also brought a favorite outdoor brand to the show as well. Winchester Firearms and Winchester Ammunition have partnered with Hayden Outdoors on a multi-year deal. You'll see new firearms and ammo in many of the episode adventures on RFD-TV. In addition to Winchester, Greeley Hat Works, Polaris and Kuhl apparel are also partnering with Hayden Outdoors.
"RFD-TV offers a great audience that enjoys not only our TV show content, but the products that we endorse," says Dan Brunk, Director of Hayden Outdoors. "From Polaris Rangers to Winchester guns and ammo, our real estate clients and TV show viewers are the perfect demographic for our partners. It's a win for all parties involved!"
Hayden Outdoors Life on the Land TV will air on RFD-TV beginning March 3, 2021.