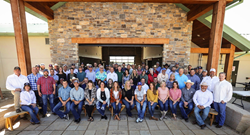 WINDSOR, Colo. (PRWEB) January 27, 2020
After setting another record year is sales, Hayden Outdoors Real Estate continues to add its services to more states, including Oregon and Idaho. The regional land brokerage is coming off a sizzling year in sales and the launch of their new TV show "Hayden Outdoors Life on the Land", hosted by NFL legend Brett Favre and airing in Prime Time Wednesday nights at 8pm EST on RFD-TV.
Growth of a company can lead to inconsistent marketing and branding in the field, but the Hayden leadership has taken multiple steps to ensuring their best practices remain consistent throughout their territory. One recent decision was the expansion into Montana, Idaho and Oregon with new Regional Leadership roles by seasoned real estate brokers.
"It's a natural step for a growing company to take," replied Dax Hayden, Managing Partner for Hayden Outdoors. "We're getting calls from landowners across the country to sell their property. Having great leaders in our company in these regions offers motivation, leadership and accountability for new agents and brokers, plus local land knowledge and consistent marketing messaging from our main offices."
The newest Regional Leader joined Hayden near Boise, Idaho. Austin Callison has owned his successful residential real estate brokerage for years, but his love for the land drew him to join the Hayden Outdoors team.
"Being in the great outdoors is my true passion, so when the opportunity presented itself to join the Hayden Outdoors team as a Regional Leader, it was an easy decision," Callison said. "My local land knowledge and strategic marketing along with Hayden's regional and national marketing is a one-two punch for sellers who are looking to sell their land in Oregon and Idaho. We are already seeing a significant increase in inquiries on our listings from qualified buyers that have been generated from the Hayden marketing efforts."
Hayden's Director Dan Brunk seeks to continue to develop innovative marketing plans to keep putting real estate offerings, and their Hayden Outdoors brand, in front of as many eyes as possible. "Through continued targeted exposure, using all forms of media, and with the recent launch of our new TV show with Brett (Favre), our knowledgeable land brokers have unsurpassed marketing to deliver to their clients."
About Hayden Outdoors: Hayden Outdoors, LLC is a family-owned and operated real estate brokerage started in 1976 that is based in Windsor, Colorado. With over 100 licensed brokers, agents and staff across 14 states, Hayden Outdoors is recognized as one of the largest land brokerages in the United States and ranked one the "Best Brokerages" every year since 2011 by The Land Report Magazine. Learn more by visiting http://www.HaydenOutdoors.com.