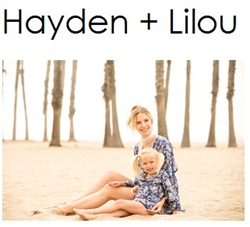 "Matching styles are in," says Nikki Parker, founder of Hayden + Lilou
Los Angeles, CA (PRWEB) May 11, 2017
The fashion-forward brand's floral print cardigan for women, and open-back dress with tulip sleeves for girls were shown in a roundup of "Mommy and Me" looks popular for 2017.
TODAY co-hosts Kathie Lee Gifford and Hoda Kotb, along with fashion segment guest Bobbie Thomas, raved about the looks, as well as the entire Hayden + Lilou collection. "I loved this website," Thomas told the audience.
"Matching styles are in," says Nikki Parker, founder of Hayden + Lilou. The brand's style is best described as fashion forward, and it's designed for moms on the go.
After selling out of both pieces instantly on the website, they are now back in stock and meeting the high demands in perfect timing. Hayden + Lilou also offers 15% off first time orders when users sign up for the latest email updates. Additionally, every order placed within the U.S. is available for free shipping.
The floral print, open-front cardigan hits mid-thigh and features a fringed hem, which is right on trend for spring and summer. The lightweight fabric and chic pattern makes it versatile enough to be worn over any simple top and a pair of jeans, or even over a dress. Made of rayon gauze, the cardigan has beautiful drape and provides super soft comfort against the skin. This piece is available in an ivory/carrot color combination, and is sized XS-XL. Easy and breezy, this cardigan will be your go-to choice for this season.
Not to be outdone, the coordinating outfit for mom's mini-me is equally stylish. In a matching floral print, the girl's dress has an open back and tulip sleeve details. A nipped in waist and knee length make it a good choice for any special function. The dress is designed for girls ages 2-14 and is available in sizes 2-14. Cute and fashion forward, this dress will be a favorite for both mom and daughter.
True to the brand's mission, both pieces are proudly made in the USA. The popular morning show segment comes at the perfect time, coinciding with the launch of the brand's website, haydenandlilou.com. Be sure to check out the rest of the Hayden + Lilou collection to find additional pieces in line with the ones featured on the TODAY Show.
About Hayden + Lilou
Founded by Nikki Parker, Hayden + Lilou is a fashion-forward brand for mommies and women, and the special daughters, nieces and friends in their lives. The inspiration to create her own kids clothes with a personal touch grew after the birth of Parker's daughter. With matching outfits designed to complement the powerful bond between a mother and her daughter, Hayden + Lilou aims to present a stylish and hassle-free alternative to modern kids clothing.