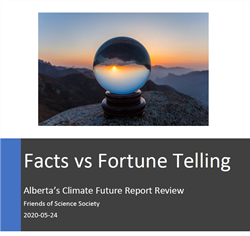 Hayhoe's method of downscaling global climate models does not work and her report does not reflect the long-term evidence and trends of Alberta's climate
CALGARY, Alberta (PRWEB) October 15, 2020
Professor Katharine Hayhoe's climate report "Alberta's Climate Future" is challenged by Friends of Science Society who have issued a rebuttal entitled "Facts vs Fortune Telling". Friends of Science says Hayhoe's method of downscaling global climate models does not work and her report does not reflect the long-term evidence and trends of Alberta's climate. Hayhoe also claims flooding and catastrophic wildfires will increase, but the evidence shows the worst 8 floods in Calgary's history occurred before 1933. The May 2016 Fort McMurray wildfire, often claimed as an example of human-caused climate change, in reality was due to a lack of preparation for early spring wildfires by the province (then under the NDP), after a winter of El Nino conditions that made the aging conifers ripe for the worst wildfire conditions.
Friends of Science denounces Hayhoe's use of comparisons of two climate forcing models (computer simulations) known as RCP 8.5* and RCP 4.5 as if these are optional pathways to increasing or reducing emissions. As Roger Pielke, Jr. has shown in a Jan. 2, 2020, article in Forbes, the RCP 8.5 scenario has been promoted by green billionaires as if it is 'Business as usual' when RCP 8.5 is deemed by scientists to be completely unrealistic. The 'green' billionaires are served by claims of climate catastrophe to prop up their case for investments in renewables, carbon offsets and a price on carbon. In an October 14, 2020, report in the Financial Post, UN climate czar Mark Carney claims the carbon offset markets are vital for reaching NetZero by 2050. (*RCP= Representative Concentration Pathways. See Vuuren et al 2011)
In an interview with Roland Tichy, translated on the Watts Up With That website, Prof. Fritz Vahrenholt, father of the German environmental movement, former IPCC expert reviewer, Professor of Chemistry and past Environment Minister of two German states, says the world has three generations, not just 12 or 30 years, to create an energy transition. While Mark Carney claims electric vehicles will help stop climate change, Vahrenholt says electric vehicles are a 'crackpot idea'. Vahrenholt's blunt assessments are published in a new book with colleague Sebastien Luning called "Unerwünschte Wahrheiten" ("Unwanted Truths").
Unlike Carney, who sees carbon markets as a way to meet Paris Agreement targets, Vahrenholt characterizes Europe's recent push for even stricter emissions reduction targets to "madness akin to Soviet central planning that is doomed to fail spectacularly".
Vahrenholt stresses that there is no climate emergency, we do have time, and that the "Paris Agreement is dead."
Vahrenholt and Luning have published several peer-reviewed papers on how the sun drives climate change, a view shared by Friends of Science Society and the over 900 scientists who are signatory to the CLINTEL declaration. Carbon dioxide emissions are deemed to have a low climate sensitivity according to dozens of recent research papers, meaning a 'low-carbon' economy will waste trillions of dollars and do nothing for the climate or environment.
Though Mark Carney has also claimed that fossil fuels will be 'stranded assets', Canadian energy economist, former diplomat and public servant, Robert Lyman says "Stranded assets are a myth" in a new report, showing dynamic global growth for fossil fuels, especially in South Asian markets.
Friends of Science Society has also issued a new two-part critical review of Canada's recent Speech from the Thone and the "5 Bold Moves" by the Task Force for Resilient Recovery – entitled: "Penury or Prosperity?".
About
Friends of Science Society is an independent group of earth, atmospheric and solar scientists, engineers, and citizens that is celebrating its 18th year of offering climate science insights. After a thorough review of a broad spectrum of literature on climate change, Friends of Science Society has concluded that the sun is the main driver of climate change, not carbon dioxide (CO2).
Friends of Science Society
P.O. Box 23167, Mission P.O.
Calgary, Alberta
Canada T2S 3B1
Toll-free Telephone: 1-888-789-9597
Web: friendsofscience.org
E-mail: contact(at)friendsofscience(dot)org
Web: climatechange101.ca