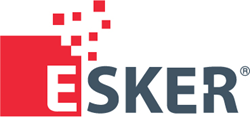 The teams are delighted and have gone so far as to say that Esker's solution is magical!
MIDDLETON, Wisc. (PRWEB) January 08, 2019
Esker, a worldwide leader in AI-driven document process automation solutions and pioneer in cloud computing, announced today that Hays, the world's leading recruiting experts in qualified, professional and skilled people, has automated its accounts receivable (AR) process using Esker's cloud-based Accounts Receivable solution in France. The solution has enabled Hays to automate 100 percent of customer invoice delivery, 65 percent as e-invoices and 35 percent as paper invoices.
Until now, the company had been manually processing close to 35,000 customer invoices annually, which often resulted in invoice recipient errors, delays in sending (up to a week), and a lack of traceability and visibility. Automating the AR process was key to supporting the company's growing business and global automation project to improve the productivity of its 650 employees across 21 offices.
Implemented in just two months, Esker's solution seamlessly integrates with Hays' Microsoft Dynamics™ Navision ERP system. Since then, the company has already been able to:

Move to 65 percent e-invoicing following an educational campaign with its customers
Outsource the sending of customer invoices, payment reminders and registered mail via Esker Mail Services for customers who have not yet switched to e-invoicing
"We are now able to send out our invoices almost instantaneously and have gained two full days by eliminating manual handling," said Marie Rousseau, Invoice Product Owner Sales Admin at Hays. "We are more productive and able to focus on higher-value tasks. The teams are delighted and have gone so far as to say that Esker's solution is magical!"
Benefits of AR automation
Thanks to Esker's solution, Hays has achieved numerous benefits, including:
Accelerated sending time — invoices and reminder letters are sent immediately in paper and electronic formats, down from one week
Eliminated time-consuming manual tasks
Improved traceability and visibility on sent invoices
Freed up accountants' time to spend on more high-value tasks
Created the ability to absorb a growing volume of invoices
Increased customer satisfaction, in part thanks to the web portal which allows its customers to access their invoices at any time
About Hays
Hays is a leading global professional recruiting group with nearly 11,000 employees in 257 offices across 33 countries and 20 divisions. Each year, Hays recruits close to 77,000 candidates and 244,000 temporary workers for thousands of companies across the private and public sectors, in permanent positions, contract roles and temporary assignments. Hays France & Luxembourg have more than 650 employees across 21 offices covering 25 business and sectors specializations.
About Esker
Esker is a worldwide leader in cloud-based document process automation software, helping financial and customer service departments digitally transform their order-to-cash (O2C) and purchase-to-pay (P2P) cycles. Used by more than 6,000 companies worldwide, Esker's solutions incorporate technologies like artificial intelligence (AI) to drive increased productivity, enhanced visibility, reduced fraud risk, and improved collaboration with customers, suppliers and internally. Esker operates in North America, Latin America, Europe and Asia Pacific with global headquarters in Lyon, France, and U.S. headquarters in Madison, Wisconsin. For more information on Esker and its solutions, visit http://www.esker.com. Follow Esker on Twitter @EskerInc and join the conversation on the Esker blog at blog.esker.com.