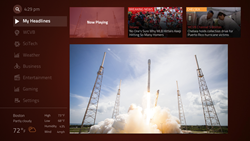 "Our mission to provide local and national news to those looking for an OTT option just got a major boost forward," said Daniel Barreto, co-founder and CEO of Haystack TV. "We are especially excited to gain momentum in the European market where we see huge opportunity for our service offering."
REDWOOD CITY, Calif. (PRWEB) September 05, 2018
Haystack TV has raised $2M to accelerate partnerships and customer growth in the U.S. and Europe. Since its launch in 2015, the OTT startup has raised $4.5M. Investors in this latest round of funding include Zorlu Ventures, AltaIR Capital, SVLinks and Stanford StartX Fund. Zorlu Ventures is part of Zorlu Holding Companies which owns Vestel, the largest TV manufacturer in Europe.
Haystack TV is an OTT service that offers a superior alternative to traditional broadcast and cable news through a free, aggregated news stream that brings together local, national, and international news. Haystack TV's personalization and big data technology enables a one-of-a-kind tailored news experience for each of our users based on their interests. The service gives traditional broadcast news stations access to a younger audience that has long eluded them--cord-cutting millennials and Gen Xers.
A majority of news watchers, between 70-75%, reportedly get their news from local outlets, and a lack of access to local news is a major impediment to more Americans cutting the cord from their traditional cable provider. Haystack TV has achieved an impressive coverage area, providing local news to over 80% of the U.S. through partnerships with premium news content providers such as CBS Local, Cox Media Group, Gray, Hearst, Meredith, Scripps and weather specialist Praedictix.
The service is available on the web, Android and iOS devices as well as Roku, Android TV, Chromecast, Apple TV, Amazon Fire TV, and Vizio TVs. Haystack TV is pre-loaded on an estimated 37% of TVs shipped in the US. With the addition of Zorlu Ventures to its list of investors Haystack plans to accelerate its expansion into the European market.
"Our mission to provide local and national news to those looking for an OTT option just got a major boost forward," said Daniel Barreto, co-founder and CEO of Haystack TV. "We are especially excited to gain momentum in the European market where we see huge opportunity for our service offering."
About Haystack TV: Haystack TV is your personal headline news channel. Tailored to each viewer, the news aggregating service is built for cord-cutters, distributing national and local news based on viewer interests and engagement. Allowing consumers to break free from traditional news, providing custom headline news across any device. Available on your phone, tablet, or TV and accessible through OTT devices like Roku, Apple TV, Amazon Fire, Android TV, Vizio TVs, Sony TVs and more.