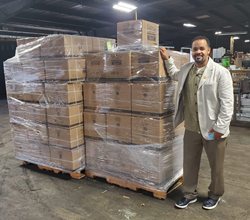 ATLANTA (PRWEB) April 20, 2021
Last year, North Carolina A&T Aluma Aaron Clanton pivoted his custom suit company 9tofive and launched 9tofive Supply. With partner and fellow Aggie, Carl Humphrey, the two HBCU grads sourced PPE from their shared networks in China and Southeast Asia and delivered much needed equipment to businesses and hospitals across the US.
As the vaccine effort rolled out, the need for N95 masks and nitrile gloves in hospitals and businesses shifted to a need for auxiliary products, including hypodermic needles used to administer the COVID-19 vaccines. 9tofive Supply was quick to shift gears again, and the pair recently contracted with Grady Hospital in Atlanta to supply over 100,000 medical needles and syringes.
Knowing it is critical to support the vaccination of Americans, specifically Black and Brown people, Clanton and Humphrey aim to be an integral part of helping their communities return to normal by getting businesses back open and helping local economies recover.
For more information check out 9tofiveSupply.com