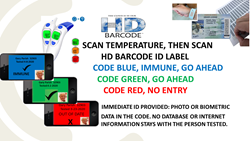 The First Barcode in the world to embed and encrypt a Person's Photograph, Fingerprints, Facial Template and text in a Code that can be Read with an Authorized Smartphone!
INDIALANTIC, Fla. (PRWEB) April 20, 2020
One of the key elements to help the economy rebound is the ability to provide positive assurance that both employees and customers have tested negative for COVID-19. As immediate tests results become available, an advanced, secure, and private HD Barcode can embed both a person's color photograph or biometric data, medical test results, and other pertinent information in the code itself. Just as important, that information can be immediately printed onto a water resistant Teslin label and applied to the back of an ID Card or wristband. The coded label stays only with that individual. Once the code has been created, the human readable data can be erased, and the label is the property of the person tested, thus no HIPAA violations. The ability to securely embed and decode that information, is a result of a number of factors that gave become available. First, is that, HD Barcode can embed thousands of times more data than a UPC Code and hundreds of times more data than a QR Code. Second, is the advancement of Smartphone camera technology to capture higher resolution images, and third, is the ability to print high quality codes using a standard desktop printer. As one Professor indicated, HD Barcode becomes a memory stick on paper" The question often arises is. "what if someone copies your code"? The answer is they only copied your photo and information related to you.
To further safeguard and protect the individual if the coded label or ID Card is lost or stolen, each city, town, or business can be provided with their own code generator. This allows each to embed a security password that only they know. The matching security password (key) is then provided to Smartphones that can decode the information in that person's code. HD Barcode can display different screen information on the Smartphone. For instance, to go into a restaurant, an attendant would do a remote scan for a fever, and then take the businesses phone and scan the person's code, showing the name, date they were tested and the test results. If additional information is required, the code has the ability to divide what is displayed. In the same barcode, a first responder's phone with a different authorization key could show the initial information, plus the information below.
1. Medical Person providing the test
2. Where the Test was Administered
3. Date of the Test
4. Results and Type of the Test
5. Person's Name
6. Person's Address
7. Person's D.O.B.
8. Photograph of the Person
9. Biometric Information
The ability to provide not only positive identification, but critical medical information immediately available could be expanded to driver's licenses and even voter registration in the future.