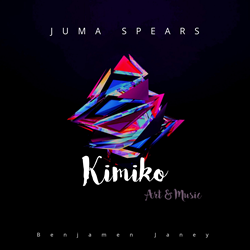 On a tour of Japan, Juma was inspired by Japanese anime and art forms and began to channel his creativity in new and innovative ways.
LOS ANGELES (PRWEB) September 24, 2020
In this age of Covid, with touring, art exhibitions, and live concerts caught in the balance, creative endeavors and the people who fuel them have ground to a near halt. Creative artists have been laid off, while big corporations and mid-size companies downsize internal staff to offset losses due to unexpected market downturns. HDLV-USA is the one platform that continues to work with its artists, helping them toward continued success no matter what the global, economic or cultural climate might embody.
Successful Designer and Entrepreneur Benjamen Janey developed HDLV-USA as an innovative webstore that uses fashion to help bring awareness to social issues. To satisfy its rapidly growing consumer demand, HDLV-USA has vertically integrated a marketplace for freelance designers that allows creatives to earn income from their art, essential tools to sell clothing through the website, and participate in the conversations of the day.
A native of Fort Worth, Texas, Juma Spears has attained early success with the platform by becoming one of the top-selling artists on the webstore within a few months. Juma has been a part of the hip-hop scene since the age of 17. After his trailblazing performance at Fort Worth's 2018 Fortress Fest, Juma was named Fort Worth Weekly's 2019 Hip-Hop Artist of the Year for his brisk lyricism and groundbreaking beats. Juma has set himself apart by working with Hip Hop legends of the industry such as Lil Flip, to underground talent like Sage Mode Wrex, and Tweety Brd. On a tour of Japan, Juma was inspired by Japanese anime and art forms and began to channel his creativity in new and innovative ways. Juma produces anime-inspired artwork, and like his mentor Lil Flip, Juma chose to come on board with HDLV-USA to marry the artwork with its clothing line and spearhead its launch. His line is featured in HDLV-USA's pop culture collection.
Juma has also teamed up with Texas-based business SachaMama to release an eco-friendly collection, and Oakland-based media network GNN for a new streetwear series. Juma is currently working on an upcoming recording project with Japanese rapper Dirty Ray from Tokyo.
HDLV-USA founder Benjamen Janey encourages, "Juma's experiences as an independent artist helped him realize that you can no longer simply be creative and expect a platform to champion you, promote you, and sponsor you; it takes a dose of effort, and the right tools. HDLV-USA was launched as a well-rounded strategy to quickly bring artist's ideas to market, and bring social impact through couture—at scale. There is no better e-commerce platform for creatives to make social impact and optimize their creativity."
Visit HDLV-USA's site for Juma Spears' line, and new products by groundbreaking artists. To find out more about Juma Spears, find him on instagram @jspearsdub.
For more on Benjamen Janey visit his website: http://www.americantechtycoon.com or on instagram @benjamenjaney