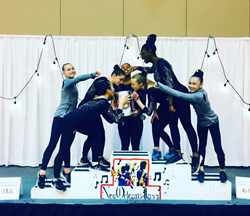 The grand prize trophy was a huge gumbo pot!
EMERYVILLE, Calif. (PRWEB) January 27, 2019
Last week, seventeen athletes from the Head Over Heels girls team traveled to New Orleans, a.k.a "The Big Easy," for the Jazz Invitational gymnastics meet. The girls enjoyed training at the host gym Empire Gymnastics on Friday, January 18th, and then performing on Saturday and Sunday. Our HOH ladies did a phenomenal job, with the Level 10 girls winning first place at the meet.
On top of that, the Level 8 girls took second place! Each team needed at least three girls to compete in every level, and since HOH only has two Level 9 girls those ladies weren't able to compete as a separate team, but they both did an outstanding job, regardless. The grand prize trophy was a huge gumbo pot! The Jazz Invitational is one of several meets that the HOH Girls Team will need to compete in to be eligible to qualify for state and national competitions.
Living up to its colorful reputation, New Orleans proved to be quite entertaining for the girls team. A Mardi Gras World Tour allowed the girls to visit the warehouse where Mardi Gras floats are stored, and see both floats from years past and also new floats in progress. The girls were able to watch artisans at work on the floats, as well as make their own Mardi Gras masks.
A carriage ride through the French Quarter provided another delightful interval for the ladies, although a sad note throughout the city occurred when the New Orleans Saints lost their shot at the Super Bowl. Of course no trip to New Orleans is complete without a visit to the renowned Café Du Monde, so the girls consequently enjoyed mouthwatering beignets there in the French Market. All together, the HOH ladies did an amazing job at the Jazz Invitational and had a great time in the Big Easy. We're looking forward to their next success!