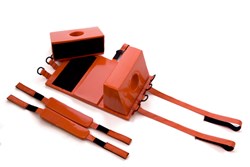 Quality Head Immobilizer to Fit all Spineboards
Orlando, FL (PRWEB) November 25, 2013
When a lifeguard has an emergency and a victim's life is in danger, there is no time to waste. Head immobilizers can be used for victims with a variety of injuries and should be in every lifeguard's tool kit. The popular e-commerce site for lifeguard supplies and apparel, Lifeguard Master, has upgraded their head immobilizer to better suit the needs of the lifeguard and the victim.
This head immobilizer is easy to use and easy to put on virtually in any situation with any victim. The head immobilizer offered at Lifeguard Master fits to all spine boards and lifeguard backboards for easy versatility.
The head immobilizer has no metal components and can be worn during x-rays, MRI's, and CT scans making it the perfect tool for an array of injuries. The head immobilizer is waterproof and buoyant so it is perfect for water rescue environments and can be easily cleaned and disinfected for reuse. For more information on this, please visit: http://lifeguardmaster.com/products/headimmobilizerforlifeguardbackboards.
This head immobilizer gives the victim's head a snug fit with its side blocks and wide fast-stick closures for easy and stable transferring of the victim. There are large circular ear holes to monitor bleeding and fluid drainage along with two head and chin straps as well as a base plate that adheres easily to the spine board or lifeguard backboard.
When ordering from Lifeguard Master, a customer from Thousand Oaks, California, says, ""This is exactly what I was looking for! It is better quality and better priced than many of its competitors. It was shipped within ten hours and I received it the very next day. This is my new shop for guard gear."
A head immobilizer should be durable and withstand elements such as wind, rain, chlorine water and ocean water. The head immobilizer offered for sale at Lifeguard Master does withstand these multiple elements making it perfect for beach or pool rescue of victims. To view a video of this, please click on: https://www.youtube.com/watch?v=ikJejnmw5K4.
It is important to have a head immobilizer that can withstand the elements because a lifeguard does not want to fear that the parts are rotting away when not using it. Having a head immobilizer close by during an emergency situation can save precious time and also a life.
The head immobilizer offered at Lifeguard Master comes in orange, red, blue, and yellow for easy visibility in different environments. For more information, please visit: http://www.lifeguardshirt.com/spineboards/
Another customer of Lifeguard Master says, "There are other lifeguard sites that sell stuff, none as intoned to lifeguard needs as this site is. I am a master trainer of lifeguards of 18 years for the Red Cross and I can say I love this store."
It is important to consider that a head immobilizer purchased for a lifeguard is universal meaning that it can fit and lock into a spine board. If a head immobilizer is not locked securely in place on a spine board or lifeguard backboard, it is difficult for the head immobilizer to serve its full functionality and purpose. This is because the head immobilizer could essentially move and not stabilize the head correctly. Spine boards can also be replaced periodically so having a universal head immobilizer ensures that the head stabilizer will fit the new spine board if there is an emergency. Lifeguard Master's head immobilizer is universal and created to serve such purpose. For more information, please visit: http://www.lifeguardequipmentandapparel.com/products/headimmobilizerforlifeguardbackboards.htm.
Lifeguard Master takes pride in their exceptional customer service and affordable yet quality products. Lifeguard Master has become the go-to place for lifeguard supplies and apparel. To start shopping for lifeguard supplies, accessories, and apparel, visit LifeguardMaster.com today.
Lifeguard Master has been in the emergency and lifeguard industry for many years. Sammy, the owner and founder of Lifeguard Master has been a lifeguard himself for 7 years. He knows what it takes to be an effective lifeguard and through the years has built a quality lifeguard store to accommodate for the anticipating needs of lifeguards around the country and around the world. Lifeguard Master's determination to excellence and water & rescue safety has quickly made it a leader in its industry. For more information, please give us a call, send us an e-mail or visit our website. Also to stay updated with the latest news in lifeguard and emergency supplies, please visit our lifeguard forum where lifeguards from around the country and world stay connect, and post the latest lifeguard news. Please click go to: LifeguardsOnline.com.
Sammy
Lifeguard Master
(714) 605-3090
http://LifeguardMaster.com