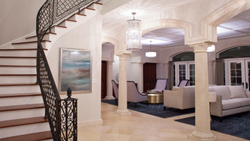 West Palm Beach, FL (PRWEB) January 13, 2020
Headwaters at Origins, a leading provider of addiction treatment for executives and their families, is pleased to announce the launch of its newly redesigned website at https://www.headwatersorigins.com. The new innovative site features a clean design, improved functionality, and easy access to essential information to help patients, loved ones, and healthcare professionals make well-informed decisions about the treatment process.
The newest iteration of Headwaters' website provides comprehensive information about the program's multidisciplinary offerings, allowing discerning patients to take the next steps on their journey to wellness. Headwaters' program is an exclusive, clinically-driven treatment option for high-profile individuals for whom addiction is a threat to their professional licenses, relationships, livelihoods, and health. Led by a team of expert clinicians and physicians who understand the unique life experiences of executives and their loved ones, this boutique fourteen-patient program offers an unparalleled level of personalized care in an intimate recovery setting. The retooled website also features a streamlined navigation that allows visitors to effortlessly browse through treatment modalities and services.
"We are thrilled to debut Headwaters' new website to our patients, their families, and referring professionals," said Jim Caldwell, President and Chief Executive Officer of Origins Behavioral HealthCare. "This website redesign highlights Headwaters' flexible option for executives and will allow those seeking help to easily find the resources to recover."
Headwaters' new website will continue to serve as the hub for essential admissions information, its ever-expanding menu of treatment modalities, accreditations, and up to date news. Visitors are encouraged to explore the website and learn more about Headwaters' unique program for men and women.
About Headwaters' at Origins:
Headwaters at Origins, a part of Origins Behavioral HealthCare's family of programs, is a licensed provider of substance use and co-occurring disorder treatment options for adults in Palm Beach, Florida. Their mission is to provide a clear path to a life of healing and restoration. Delivered with compassion and clinical expertise, Headwaters provides flexible recovery options that leverage evidence-based therapies and complementary, holistic services. Each highly-customized treatment plan is skillfully designed to meet the unique needs of executives, high-profile individuals, community leaders, and their families.
To learn more about Headwaters', visit: https://www.headwatersorigins.com.