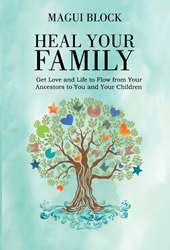 "Finding solutions for my life, my family, my own challenges and the challenges of my clients has been my goal. Everything I talk about in the book, I have applied to myself and my family with extraordinary results."
MEXICO CITY (PRWEB) August 20, 2018
Magui Block is a psychotherapist with over 25-years' experience treating patients and training facilitators on several psychotherapy practices including her own, the Magui Block Method.
Magui began giving seminars and conferences on, and healing patients with, her method, and the positive healing effects sparked interest in many people. After starting a YouTube channel to share healing exercises, demand grew and Magui knew writing a book was the avenue to reach an even wider audience of people in need of healing.
"Finding solutions for my life, my family, my own challenges and the challenges of my clients has been my goal. Everything I talk about in the book, I have applied to myself and my family with extraordinary results." the author said.
We all carry wounds. Wounds of our own traumas, and the traumas of our family members over the generations before us. Releasing these wounds will allow harmony to flow freely so you and your family members may free yourselves from past burdens and move forward without baggage.
"Heal Your Family: Get Love and Life to Flow from Your Ancestors to You and Your Children"
By Magui Block
ISBN: 9781504390422 (softcover); 9781504390415 (hardcover); 9781504390439 (electronic)
Available at the Balboa Press Online Bookstore, Amazon and Barnes & Noble
About the author
Magui Block initiated into psychotherapy more than twenty-five years ago, studying various specializations and finally creating her own method for achieving extraordinary results in very little time. Currently, she offers diplomas for training professional facilitators in the Magui Block Method, besides offering consultations and continually creating tools for transforming through love. To learn more, please visit maguiblock.com.
###