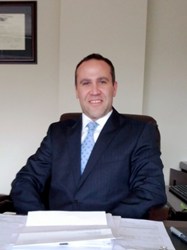 This module cuts through the rhetoric and presents the basics.
Blue Bell, PA (PRWEB) August 13, 2013
Jason B Martin, Esq., a Montgomery County, PA health care attorney is proud to announce that he will co-present a health care webinar with David Klein, CPC, CHC. The webinar entitled "Audits and Compliance Plans," will be available live on Monday, October 21, 2013 from 8 – 10 p.m. EST. A recording of the webinar will also be available for viewing through ChiroView after the initial broadcast.
This webinar is part of a series presented by ChiroView and PayDC. For several years the chiropractic profession has been inundated with warnings, rumors, and other anecdotes about audits; some true, and others, not so much.
"This module cuts through the rhetoric and presents the basics," explained Jason B. Martin. "The webinar will help chiropractors cut through the many myths surrounding audits and present audit basics: what are they and how they are conducted; what to do if a practice is subject to an audit; how you can prepare before an audit occurs; and the importance of a comprehensive health care compliance program."
Co-presenter David Klein, CPC, CHC is a certified coding and compliance consultant with over eighteen years of healthcare consulting experience. He is the co-founder of PayDC, a web-based patient conversion, reimbursement and compliance software system. Klein is also the Founder and President of DK Coding and Compliance, Inc. His firm specializes in audit defense, education and compliance issues.
This webinar is a must for chiropractors and CA's alike.
The eight part series of webinars begins on Monday, August 19, 2013 and ends Monday, November 4, 2013.
Montgomery County, PA health care attorney Jason B. Martin, Esq. is the managing partner of The Martin Law Firm. The Martin Law Firm provides exceptional personal service and dedicated, knowledgeable legal representation to chiropractors, physicians, and other health care providers located throughout Pennsylvania. For more information about The Martin Law Firm please visit: http://www.jbmartinlaw.com
To register for this upcoming webinar event, please visit: https://www.gotomeeting.com/register/790942662