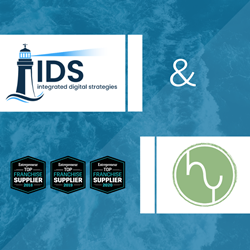 AMESBURY, Mass. (PRWEB) May 11, 2021
Integrated Digital Strategies (IDS), a nationally recognized digital marketing firm specializing in campaigns for established and emerging franchise brands, is pleased to announce its partnership with Honor Yoga, an emerging health and wellness brand with three robust business models and a strong commitment to its franchisees — or "yogipreneurs," as they are affectionately referred to by brand leaders.
"We came to IDS because of their reputation," says Maria Turco, Chief Yogini and founder of Honor Yoga. "They put as much care, thought, and work into the marketing strategies of an emerging brand as they do an established one, and we're feeling that love."
Now in its tenth year, IDS employs a two-pronged approach to its success: keeping clients happy and ensuring they see a healthy ROI, and Honor Yoga can expect to benefit from that philosophy.
Says senior writer Liz Frame, part of the IDS content team and Honor Yoga's primary content developer, "We don't start creating anything for our clients until we know them inside and out. That means listening to them, helping them define their goals, and respecting their pain points — all of it. We worked hard to build Honor Yoga a beautiful new website, full of engaging SEO-rich content, and we did that by listening."
In addition to a new website that highlights the brand's values and mission, its three business models meant for new, existing, and virtual studio owners, and its strong franchisee support, Honor Yoga can count on monthly informative blogs, captivating social posts across multiple platforms, and paid advertising that will put them in front of their best customers. All of it is neatly delivered every month by their dedicated senior account manager, Vern Nicholson, who has an affinity for the health and wellness industry and who uses his expertise to help fine-tune IDS's ongoing strategies for the brand.
"Maria and the rest of the Honor Yoga family are dedicated to the growth and success of their brand and franchisees, and I'm very excited to be part of that," says Vern.
It's been a robust year for IDS. The agency has enjoyed tremendous success during a time when many businesses are still struggling to overcome the effects of the pandemic. The company initially experienced a downturn at the start of 2020 but quickly pivoted, signing multiple new contracts with brands from a spectrum of industries, including fast food, high tech, senior care, and more.
"We didn't let the pandemic define us," remembers Steve Galligan, co-founder and CEO of IDS. "I'd be lying if I said we weren't a little shell-shocked at the start. But we refused to see the glass as half-empty. We knew our clients would still be depending on us, and this has certainly been the case as our economy recovers. The franchise sphere is busier than ever!"
IDS looks forward to meeting the needs of a growing roster of franchise clients as it continues to grow its reputation for excellence in all things digital marketing.
For more information about IDS and its suite of services, reach out to Steve Galligan: (steve@idigitalstrategies.com, 978-828-0084)