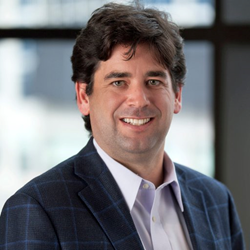 SAN FRANCISCO (PRWEB) January 07, 2021
Health Evolution, the nation's premier convener of health care CEOs, announced that Richard Schwartz has joined as its new President.
Schwartz served as Chief Operating Officer of the Advisory Board Company's health care practice from 2002-2018. Across his tenure, the Advisory Board health care practice grew from less than 100 employees to more than 2,000, from serving several hundred health care member organizations to serving several thousand, and from less than $10 million in revenue to more than $500 million.
"I have long admired Health Evolution's privileged position with respect to the health care CEO community. Health Evolution is the premier platform for these CEOs to collaborate and address the core challenges facing the industry. Never have those challenges been more critical than now amid the confluence of the COVID-19 pandemic, greater appreciation for health disparities and social determinants, mounting unmet mental health needs, and escalating strains on the affordability of care," Schwartz says. "Health Evolution is positioned to support the CEOs who are leading a new era in transformation of health care in America."
As Health Evolution President, Schwartz will oversee all aspects of Health Evolution products. He will have responsibility for three existing lines of business – Summit, Insights and Forum – and will oversee efforts to mature, integrate and expand these offerings and to develop new products.
"Richard joins Health Evolution with a strong and proven track record as a growth-oriented business leader. He understands what health care leaders need and knows how to build and deliver products to meet those needs," says David J. Brailer, MD, PhD, Executive Chairman of Health Evolution. "He is aligned with our mission to be the preeminent convener and supporter of health care leaders who drive change."
Prior to joining Health Evolution, Schwartz provided consulting services to a range of firms from private equity and other investment companies to health care and media organizations. Before the Advisory Board, Schwartz worked at a boutique consulting firm advising Fortune 100-size companies on policy issues, a bio-technology center, and a policy think-tank.
Schwartz earned a B.A. degree from Stanford University and an M.B.A. from Duke University.
About Health Evolution
Health Evolution engages chief executives, presidents, founders, board chairs, policymakers and other top industry leaders. We do this by convening in-person and virtual gatherings, publishing insights and analyzing information that helps industry leaders accelerate progress, develop opportunities and shape new strategies. We support executives seeking to create a high quality and efficient health care systems based on prevention, affordability access, equity and outcomes for people and their communities. http://www.HealthEvolution.com.
Health Evolution hosts the annual Summit in Laguna Niguel, California, facilitates the Forum with more than 250 payor, provider and life science CEO Fellows focusing on new models of care delivery, next generation IT in health care, and community health and advancing health equity to enable cross-industry leaders to drive impactful and lasting change. We also produce regular webcasts, publish the weekly Health Evolution Insider digital publication, which informs 11,500+ CEO-level subscribers, and hosts the Innovation Lab where CEOs learn from CEOs about emerging technologies being used to solve established business problems.