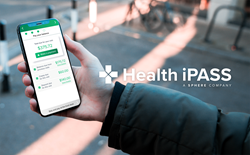 The Health iPASS product suite perfectly complements our current MotionMD® offerings by applying the same concepts of process automation we currently use to streamline DME-related tasks to the patient intake and payment process.
OAKBROOK, Ill. (PRWEB) April 20, 2021
Health iPASS, a leading healthcare payments and patient intake software company, announced today a new strategic partnership with DJO®, a leading provider of medical technologies designed to keep people moving. This partnership will enable DJO's MotionMD® to provide their clients with the latest technology to transform patient A/R and bad debt into safeguarded revenue and Health iPASS to present their clients with MotionMD, a full end-to-end DME automation platform.
MotionMD® is a HITRUST certified, EMR/PM Integrated SaaS solution, designed to streamline and transform orthopedic practices while also enhancing the patient experience. Designed to automate day-to-day DME workflows, MotionMD helps drive efficiencies and compliance, inventory management, real-time insurance verification, electronic signatures, and provides robust analytics.
Health iPASS provides a multi-platform solution for medical providers looking to boost patient revenue collection and strengthen patient engagement with streamlined, 100% mobile patient intake, check-in, and payment. DJO will be offering the Health iPASS suite as part of its award-winning business software solution for healthcare practices, MotionMD®.
This partnership addresses inefficiencies that plague the healthcare industry's cash collections efforts and patient frustrations surrounding unexpected medical bills. By combining these two powerful platforms, practices can ensure a better patient experience and improved business operations.
"Healthcare organizations are increasingly searching for tech-based answers to their most pressing pain points," remarked Steve Ingel, Executive Vice President of DJO Healthcare Solutions. "The Health iPASS product suite perfectly complements our current MotionMD® offerings by applying the same concepts of process automation we currently use to streamline DME-related tasks to the patient intake and payment process. Just as our DME products keep people moving, Health iPASS keeps revenue moving into healthcare organizations while creating a cutting-edge patient experience."
"DJO is a leading brand in the orthopedic world. We are unbelievably proud to be partnering to help orthopedic groups across the country reduce their patient bad debt in a way that patients love," commented Rajesh Voddiraju, Founder and CEO of Health iPASS. "We are looking forward to getting this joint solution to the market and driving incredible growth in 2021."
About DJO: DJO®, a subsidiary of Colfax Corporation (NYSE: CFX), is a leading developer and distributor of high-quality medical devices that provide proven solutions for musculoskeletal health, joint reconstruction, vascular health, and pain management. The Company's extensive range of products and integrated technologies address the orthopedic continuum of care from performance and mobility to surgical intervention and post-operative rehabilitation; enabling people around the world to regain or maintain their natural motion. For additional information about DJO, please visit http://www.DJOGlobal.com
About Health iPASS: Health iPASS, a Sphere company, gets your medical practice paid, transforming patient bad debt into guaranteed revenue and decreasing patient A/R in a way that your patients love. Our innovative product suite is designed to engage patients at every step of the patient journey, from express mobile check-in to final payment. Throughout the process, we provide patients with peace-of-mind through price transparency so they know what they owe. Health iPASS is committed to delivering better check-ins for patients and better revenue for medical practices. Please visit https://healthipass.com/