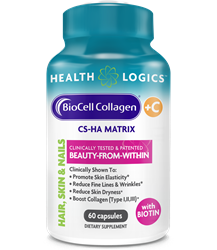 We are proud to launch our most advanced hair, skin, and nails formula
IRVINE, Calif. (PRWEB) January 17, 2019
Health Logics, a leading dietary supplement brand, announces the launch of its most advanced hair, skin, and nail formula that combines the power of collagen type II peptides, hyaluronic acid (HA), chondroitin sulfate (from clinically studied BioCell Collagen) in combination with Vitamin C and Biotin. Collagen and HA are vital components of skin that decline as we age and are responsible for the skin's moisture, suppleness, elasticity, vibrancy, and beauty. Vitamin C supports collagen formation in the body and acts as an antioxidant to help neutralize free radicals, often associated with aging and UV sunlight exposure. Biotin promotes hair and nail health.*
"We are proud to launch our most advanced hair, skin, and nails formula," said Randall Dizon, of Health Logics. "Health Logics integrated the power of Vitamin C and Biotin with patented BioCell Collagen, which has the support all major collagen types and was clinically shown to reduce fine lines, wrinkles, and skin dryness in 12 weeks ."
Health Logics delivers 1,000mg of BioCell Collagen in two capsules providing 600 mg of type II collagen peptides, 100 mg hyaluronic acid, 200 mg of chondroitin sulfate, and 5,000 mcg of Biotin, and 120 mg of Vitamin C.
*These statements have not been evaluated by the Food and Drug Administration. This product is not intended to diagnose, treat, cure, or prevent any disease.
About Health Logics Laboratories, Inc.
Founded in 1998, Health Logics is a leading developer and supplier of high-quality, science-based dietary supplements designed to unlock the body's amazing, natural regenerative ability for optimal health and quality of life. Health Logics mission is to help people stay healthy by living a balanced lifestyle that incorporates diet, exercise and quality nutritional supplements. Health Logics believes that within everyone, lies the untapped potential to become the best version of themselves. When possible, we use patented and trademarked ingredients in our products because these ingredients are known for their efficacy and have undergone clinical and analytical testing validation. Health Logics products are quality guaranteed and manufactured in current Good Manufacturing Practices (cGMP) certified and audited facilities located in the United States of America. For more information visit: http://www.health-logics.com
About BioCell Collagen®
BioCell Collagen is a clinically tested dietary ingredient that promotes active joints, youthful-looking skin, and healthy connective tissues. BioCell Collagen contains a patented composition of naturally occurring hydrolyzed collagen type II, chondroitin sulfate and hyaluronic acid in a highly absorbable matrix form that has been the subject of numerous human clinical trials, including trials on safety, efficacy, and bioavailability. For more information and a directory of where to buy products made with BioCell Collagen®, visit http://www.BioCellCollagen.com.
BioCell Collagen® is a registered trademark of BioCell Technology, LLC
Health Logics® is a registered trademark of Health Logics Laboratories, Inc.
Ref. Schwartz SR, et al. Ingestion of BioCell Collagen, a novel hydrolyzed chicken sternal cartilage extract; enhanced blood microcirculation and reduced facial aging signs. Clin lnterv Aging. 2012. 7:267-73.