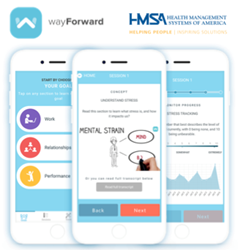 wayForward has been effective in helping over 80% of participants, means we are adding value for the employees and their employers
DETROIT (PRWEB) November 06, 2018
Health Management Systems of America (HMSA), a national EAP and Wellbeing service provider announced that it will be adding the, wayForward app to its suite of technology services. Following the development of On-line Counseling functionality, Text Chat portal and integrated reporting dashboard, the company is excited by this newest innovation. The wayForward digital platform is designed to improve employee wellbeing and health. The system utilizes cloud-based App technology to provide digital assessments, evidence based therapeutic tools, and coaching.
wayForward is an effective tool to screen for several mental and behavioral health conditions. This allows employees to get high quality services such as interactive content and expert coaches at their fingertips. This is an important addition, as an increasing portion of the workforce wants digital tools in their everyday life.
"We have seen increased engagement from employees in our previous EAP rollouts, and that combined with data showing that wayForward has been effective in helping over 80% of participants, means we are adding value for the employees and their employers," said PsyInnovations co-founder and Chief Scientific Officer, Dr. Navya Singh.
The new technology addition is made possible through a relationship with PsyInnovations a New York based team of leading researchers, clinicians, behavioral health experts associated with Columbia University, University of Michigan, Yeshiva University and UC San Diego. Their platform covers all aspects of mental health and wellness including assessment, self-use programs based on CBT and mindfulness coaching.
"We feel that this new technology dovetails nicely in our approach to engaging employees on their level and pace," said Dennis Rice, President of HMSA.